Jay Peak is proud to present the East Coast College Tour of Level 1's award-winning new flick, Partly Cloudy! See the dates below to find the showing closest to you.
At every tour stop, Jay Peak-Burke college season passes will be $20 off, PLUS you will get entered into a raffle to win:
- Grand Prize: A Chalet Weekend for 6 at Jay Peak. You know the deal. Lift tickets, waterpark passes, condo, hot tub, etc. Just remember, what happens on the Chalet Weekend stays on the Chalet Weekend.
-2nd Prize: A new pair of skis or a new snowboard. Self explanatory.
-3rd Prize: A 2014-2015 Jay Peak/Burke College Season Pass. Also self explanatory.
Like any good movie tour, we'll also have tons of schwag and raffle prizes. So get out there, see this awesome movie and get your season pass on the cheap!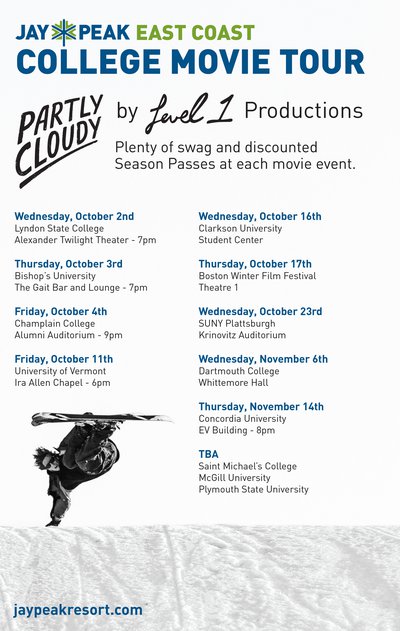 Please note that the premiere at Bishop's University has moved from tonight to Thursday, October 24th.