So, I'm real broke and need to afford a pass this year, which I need much more than all this stuff!
Paypal only, all prices include shipping and are OBO! Bumps get +K
1. Saga Fatigue pants, size L. 9/10, worn for one season and babied. $90
2. Karbon shell, size M with Sun Valley embroidery. From 2007 but never worn skiing, still looks and feels like a brand new jacket. Fabric is similar to what TREW uses. $100obo
3. FD reversible hoodie, green/brown, size XL. zippers in pockets have lost some stitching on brown side, green side is good though. $30
4. Dalbello Voodoo boots size 25.5. got in a trade, used once, didn't fit my feet. 8/10, some of the paint is scuffed and heelpieces are very slightly worn. $150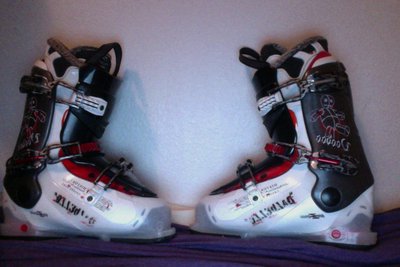 5. Special Blend Annex pants, XS. tiny waist but pretty damn baggy. 6.5/10, pretty significant fraying around the ankles. $40
6. Airblaster Parker pants, size M. 7/10, some fraying around heels/ankles and there is a small stain from my old roommate who liked to throw fake blood all over the mountain. $40
7. Smith Phenom lenses - gold sensor mirror and green sol-x. Both lightly used, well-taken care of, and have small scratches that don't affect vision. $30 each
There you have it!