So my seasonal job is ending and im in serious need of some shoulder season cash. Ive got a bunch of Large outerwear from the last couple seasons and some skis i need to get rid of too so take a look. All prices include shipping and are of course
OBO.
First is some Nomis Outerwear, XLT. SUPER Tall and with a fresh splatter paint pattern. Jacket is barely used, probably a 9/10 and the pants are brand new (10/10) with tags still on and removable suspender straps. 60 each or 100 for both.
Next are some Special Blend pants, size large but very baggy. These have a handy powder guard that keeps snow from getting down your pants when your sagging. These have some typical wear around the bottoms but otherwise good condition. 6.5/10 $40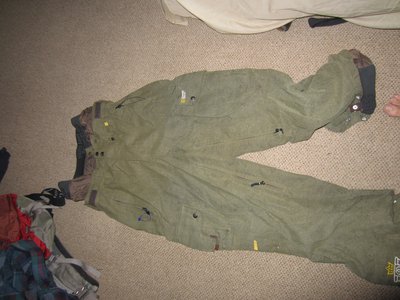 Next are some North Face snowpants. These are XL but similar in size to the green pants. Used about 5 times with no tears. 9.5/10 $50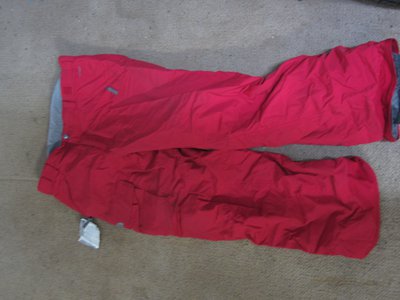 Two more pieces of outerwear in slighlty more rugged shape. AN XXL orange oakley jacket, which i removed some pockets from prolly 4/10. The pants are purple XL Foursquare pants with quite a bit of wear on the bottom cuffs. 25 each or 40 for both.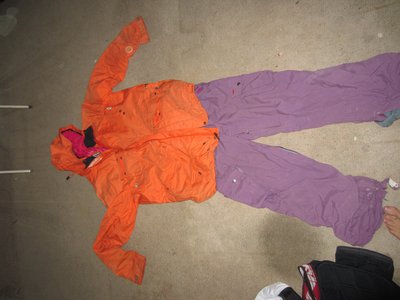 Now for the skis. First up are Volkl Shiros 193 from the 2011-2012 season. These have been used only about 20 days (as the last two seasons in Tahoe have sucked). These were mounted 1.5 times with look pivots. One small coreshot is pictured. $250 (bindings not included)
Next are 186 Atomic Blogs from the same season. These are a little more used with a couple small coreshots, probably used this setup 30 times. They are mounted with last years Marker Duke which i will consider selling for the right price. 100 w/o bindings or 350 with dukes.
These are some BRAND NEW Praxis MVP's 187. For those not familiar Praxis is a small ski company in Tahoe that makes custom, bulletproof, ripper pow skis. These have a custom octopus graphic and are an excellent all mountain ski with medium/stiff flex. $520
Next are the 1st generation Bent Chetlers from about 4 years ago. These are in pretty rough shape but I still absolutely love them. Several coreshots in these so definitely more of a rock ski when the powders not quite deep enough. $100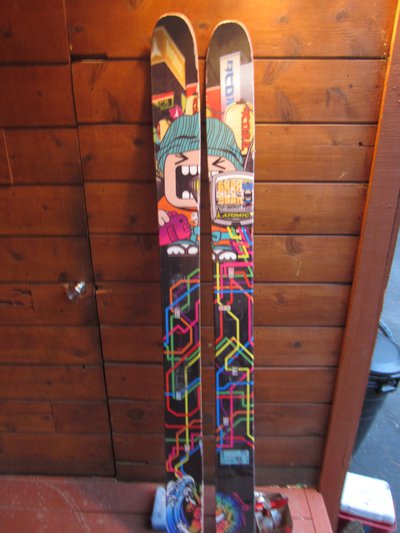 WE also got some Line Sir Francis Bacons from about 4 years ago. These are in excellent shape, with no coreshots and limited top sheet scratching. These have normal camber with early rise tip and fucking sweet graphics. Mounted 1.5 times for a marker griffon. $150
Finally I Have some ARMADA Alpha 1s from a couple years ago. These have a couple edge cracks on the inside left edges but are in otherwise good condition and an excellent park ski. Mounted once and heli coiled on the heel piece. Can include the Marker Griffons. 100 w/o bindings or 150 with Griffons.
Also I have this HUMONGOUS red sweatshirt for the first person that buys anything