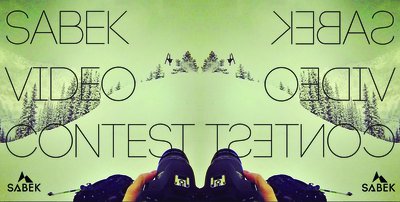 Hey NS,
We love skiing, you love skiing. We're looking or a Rep for next season, you want to be a Rep for next season. Show us what you've got.
StartFragment 1) Submit your video* via our Facebook page (
www.facebook.com/sabekouterwear
) before
July 10
th at 11:59 pm MDT.
2) On
July 11
th, voting begins. Users may submit 1 vote per day for 10 days. Contest ends
July 18
th.
3) On
July 21
st, we will announce our
FAN FAVORITE
(most votes on Facebook)
4) On
July 23
rd, we will announce the
SABEK FAVORITE
(we choose our favorite)
PRIZES
:
FAN FAVORITE: Get 30% off of your first order when we launch Fall '13 / Swag-bag complete with SABEK t-shirt, hat and stickers / Your edit is featured on our Facebook page as well as SABEK.com
SABEK FAVORITE: You will be a SABEK REP for the 13/14 season / We'll hook you up with free gear and some serious publicity on our social platforms / Get ready for a sick year, and even sicker gear.


*Entries must consist of skiing/snowboarding footage from the 12/13 season & must be YouTube link. 12+ yrs of age are qualified. Prizes may not be available until Fall '13. Sabek, LLC retains the right to use footage and photos (incl. screenshots from video) from the entries as marketing material for SABEK Outerwear.
EndFragment