Some Rules: 1. Everything is up for negotiation, but by no means will i just give these items away.
2. Buyer pays shipping
3. Buyer pays shipping
First picture is of a pair of Full Tilt Twalls size 26.5, intuition liners are perfect and brand new heel pieces (100$). Also depicted is a pair of Dragon APX in coal, eclipse used one day in pristine condition (100$), and a red size Large helmet with a bunch of stickers (50$).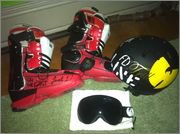 Next item is a size XL first drop v3 black/white jacket including brand new yellow sleeves, jacket was worm one day only 2 very small black smudges on white sleeve (125$).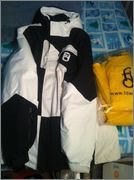 Thanks for looking please feel free to ask for more detailed pictures of anything you are interested in, Cheers.