Attention Newschoolers:
We are hosting a huge rail jam in Provo, Utah and we need athletes. The rail jam will be held March 9, 2013 from 4:00pm-7:00pm and we will be giving away huge prizes to the top three winners in both skiing and snowboarding. Prizes are as follows:
3rd Place: $100 and potential sponsorship deals
2nd Place: $200 and potential sponsorship deals
1st Place: $300 and 1 year of free supplemental and athlete insurance from Overstoked Insurance
Sponsors of the Event Include:
Under Armour
Zeal Optics
Discrete Headwear
Dakine
Goal Zero
Knight Trucking
Overstoked
Nuskin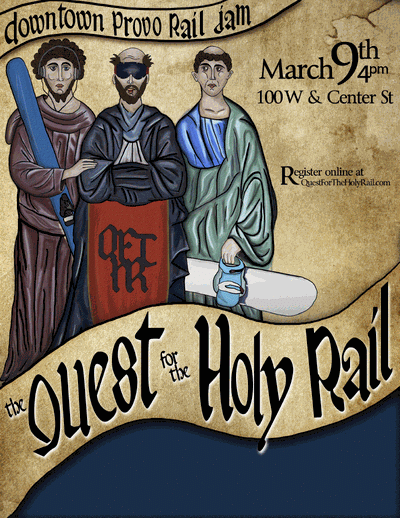 Event Format: Athletes may register online or on-location immediately prior to the event. All participants must complete an Assumption of Risk and Liability Release Form, Rail Jam
registration form
, provide credentials to ensure eligibility, and pay a $20 registration fee. All competitors will be reviewed to ensure they will be able to safely and comfortably compete on the main feature. Entry will be limited to 80 qualified participants. All athletes must wear a properly fastened snow-sports helmet during all event practice and competition. Other protective wear is recommended.
The event will take place from 4:00 pm to 7:00 pm. Competing athletes will have access to the ramp from 3:30-3:45 pm for practice. The competition consists of two heats: an open class qualifier (45 min), and an open class final(25 min). Each run will be scored by a panel of professional athletes including Pep Fujas, Tom Wallisch, and Blake Nyman. The top five competitors in each category will advance to the final heat. Cash and product prizes will be awarded to winners immediately following the final round.
Insurance: Overstoked is providing full event coverage. This policy meets all Utah State requirements. Additionally, each athlete will be individually insured through Overstoked Insurance. Overstoked will also provide the Assumption of Risk and Liability release forms and full access to legal resources. An ambulance and medical crew will be on site for the duration of the event.
If you are interested in competing you may
register
online at
www.questfortheholyrail.com
. The cost for competing is only $20.
If you have any questions please email me at
theoharris21@gmail.com