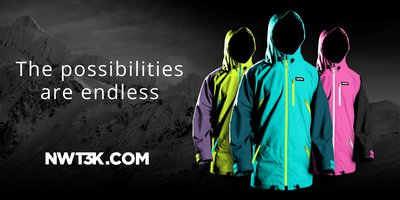 Before the holidays our customizable outerwear company
Northwest Technical Outerwear
(NWT3K) launched a new direction in the ski/snowboard market. At NWT3K, we recognize that riders crave individuality and functionality, so we have created the product and website technology that allows every individual to create his/her own custom answer.
Our USA-made, student created company is producing high-quality, affordable, and
customizable
jackets that are catered to the free-ride skier and snowboarder. Our new website includes a custom product builder that offers up to 12 different colors for each feature, a choice of 16 different zipper layouts, as well as optional additional functionality.
Read our news release for more info >
We value everyone here within the Newschoolers community so your feedback, suggestions, or stoke is greatly appreciated!
-Shred on friends-