i have for sale:
a poc crown helmet (xl) brand new with a quality sticker job, will be shipped in original box with all original padding and info, selling for 55 pounds
full tilt twall boots (2010 i think, the red ones) they are size 28.5 in really good condition, just dont fit me right, im selling them for 140 pounds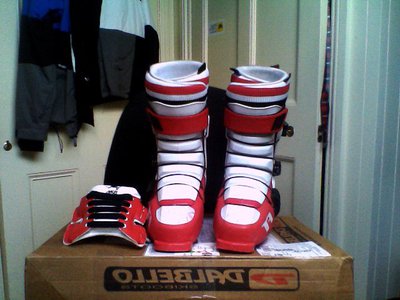 some dalbello rampage boots, in good condition with some cosmetic damage, im the second owner, they are size 27.5 and im selling them for 130 pounds
a 4frnt flat cap with some damage to it, along with a redbull flat cap (not sure if it is legit but its pretty convincing) with some damage as well and a monster had, again with some damage on it. im selling them for 15 pounds each or 30 pounds for all three
lastly i have an xl quicksilver jacket, in great condition (almost new) no scuffs or anything like that, its really warm and comes down to mid thigh on my and im 5 ft 11 im selling this for 100 pounds
buyer pays shipping, unless we can arrange a meet in london somewhere.
im sure we can negotiate prices if you are reasonable with me, also buyers attitude will affect the price and any extras that might be thrown in to the package.. (hint, be nice)
both boots might be taken off sale as im thinking of maybe getting them as a part exchange for new boots.
photos upon request, although you can most likely find them in my previous threads or on my profile.