Ok Newschoolers, I have too much gear and too many bills. It's time to sell some shit.
Read The Rules!
Read The Rules!
1. All items are FS/FT, I'd prefer to sell though
2. Prices listed are Buy It Now pricing.
3. Shipping is included in the price.
4. All items are O.B.O. until either the buy it now price is reached, or at my own discretion
5. PM me for fastest response
6. Bumps get Karma
7. Hate all you want, I do not care. My prices are reasonable, and I'm in no rush to sell.
8. If we trade, you ship first. No questions asked.
9. READ THE RULES!!!!
Trades I will CONSIDER...
E'Hoto, Jiberish, or Outerwear similar in quality and value of mine. Please use your judgement.
Here are the goods:
Newschoolers Package Deal - $55
Don't really want to split up the package, but I'm willing to negotiate.
2XL Yellow Tee with Purple Script - 8.5/10
Great shape but it's been worn and washed
6XL NS 4bi9 Colab - 5/10
No rips or tears, but it has a few stains and has been skied in a lot
Newschoolers lanyard with bottle-opener - 7/10
A little dirty and the clip can be funny at times, but still functions properly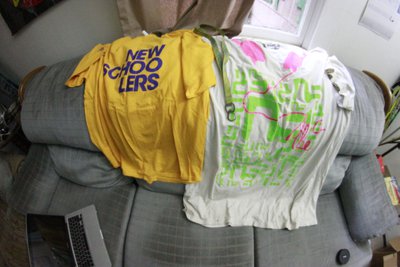 XL Saga Anomie Jacket - For Trade ONLY
9/10 - Only worn a few days, 5 at most. Only looking for other jackets
XL Saga Anomie Pants - $100
9/10 Only wore them once, no damage at all.
XL Saga Stacked Thermal - $35
8/10 - Minor cracking and a little stretched out. Still in great shape though
4XL Jiberish Lohi - $75
6/10 - A lot of fading, and a couple stains, no rips, minimal piling. I'm gonna hate to see this one go.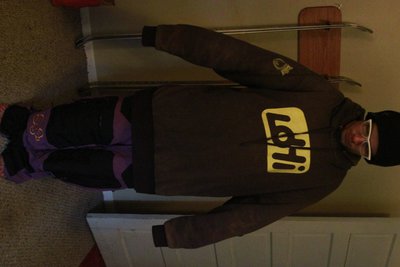 4XL Jiberish Stacked Mint crewneck - $55
7/10 - Kinda dirty, needs a wash but most dirt will come out. Few stains around ribbing. No rips, minimal piling
4XL Jiberish Evergreen Flannel - $60
7/10 - A couple tiny holes around the buttons, and could use a wash.
4XL Jiberish Ignant vest - $60
9/10 - Only worn around the house a bit, and a couple times skiing. No damage at all
5XL Jiberish Bagheera - $70
8/10 - A little bit dirty, but in awesome condition. Small holes in bottom for a drawstring
5XL Jiberish Penguin Puffeh - $75
9/10 - This thing is in awesome shape, I'd rather keep this one.
5XL Jiberish Allen - $95
9/10 - This is my favorite piece. I really don't want to part with it, but I know quite a few people who have been looking for one.
XXL LDC Oaks Pants - $75
8/10 - One belt loop broke, other than that they're in great shape
2 Pairs of Sewn In Skinny pants - $45
I Can't wear either of these anymore with my kneebraces, I just want them gone.
XXL Orage Berglund Pants - 6/10
Stitching on these can be undone, still in great shape when I sewed them up.
XXL Black Trespass Pants - 4/10
Pretty beat, I blew the crotch out and I wanted some hesh pants at the time
XL Scott Pants - $30
7/10 - Super heavy duty, I just don't need them
Please remember all prices include shipping.
I only ship usps priority flat rate with a tracking number
If we trade, I ask that you do the same
READ THE RULES!!!
Please be sure to check back in, as I may be adding some more items at any time, and feel free to ask for more pictures or info.
Enjoy.