Whats up NS, got a pair of black salomon pants, size small... I picked these up in a combo deal with a Saga jacket, and unfortunately these guys are a little tight for my fat-ass. Don't get me wrong, they are big for Smalls, but with a 34 waist they are just a little tight around my hip (but pretty roomy everywhere else). Would probably be ideal for someone with a 32 inch waist or less!!
Pants are in great condition, just a tiny bit of wear around the heels from normal riding, but nothing bad at all! pants look good and feel good, just wish I had more time to hit a treadmill.
Looking to get $50 for these, OR ideally a TRADE for size medium or large pants (preferably black, but will consider others). HIT ME UP WITH OFFERS OR TRADES, im open to anything. Just please no lowballs.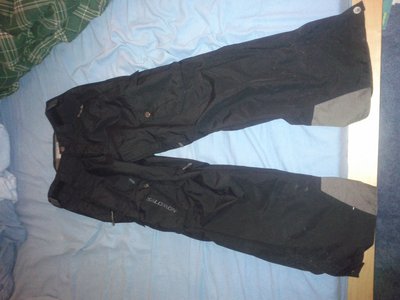 And of course, as promised..
my girlfriends BEWBS for your enjoyment... courtesy of snapchat (and she thought this pic would be gone after 3 seconds muahahah)