Everything here is for sale not looking for trades. if you want something send me a message with the price and i will get back to you that is ok. i don't want any of this stuff anymore because it is all to small for me but that doesn't mean i will except low ball offers.All of the prices can be negotiated.
Tom Wallisch full tilts- 28.5
There are a few nicks and scrapes on them. the boots are still fine they come with the other tongue which is a lower flex. i would like to get around $200 for the boots.
Next are the Salomon spk kaos- 28.0
These boots don't have much ware on them they have a few scrapes on them and that is it. the boots are virtually brand new and have only been used for half a season. i would like to get in between $190- 200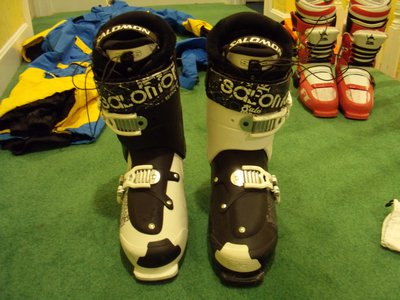 Next i have 3 pairs of Oakley goggles 2 pairs are crowbars and the third pair are Oakley wisdom's.they are all in really good condition the pair of crow bars with the fire iridium lenses have a few nicks in them but they are very hard to see and you don't notice them.
next up is the FD wear
all of it is size large and in good condition. there is only one problem with the pants and that is they have a hole in one of the exterior pockets. the coat is in good condition has like one little stain above the left lower pocket. the extra sleeves come with the coat and the bib comes with the pants.
If you have any questions just send them to my inbox and i will answer them.
Thank you.