It's dumping currently-with even more the rest of the weekend! We couldn't be more stoked for the Shred Circuit Rail Jam today. Only $20 to ride, open to both skiers and snowboarders. Bring your friends! Here's some more info below: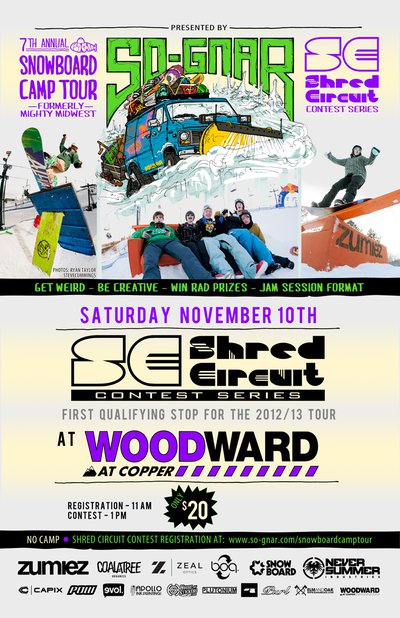 Hello friends and fellow shreds,

We are proud to announce that the So-Gnar Shred Circuit Traveling contest series kicks off today, that's right, today Saturday, November 10th, 2012 at Copper Mountain with the Woodward at Copper park. Come shred and have some fun to kick off the season with a Jam Session Creative Battle. Please share this with your peers to help spread the stoke, or something like that....
DATE- SATURDAY, NOVEMBER 10TH, 2012
At Lower Bouncer Park with live music from Dj Captain Safety & Raw Russ via the Red Bull MXT Competition Course will be built at the base of the mountain.
SCHEDULE
11am-12pm Day of Registration at the Cage
12pm-12:45pm Practice
1pm-1:40pm Heat 1 - Snowboard
1:50pm-2:30pm Heat 2 - Ski
2:45pm-3:30pm Finals
3:45pm Awards on Lower Bouncer
4:00pm-4:30 Autographs at the Cage
****YOU MUST CHECK IN AT THE CAGE TO GET YOUR BIB AND SIGN A WAIVER TO PARTICIPATE!!!!!
WHAT IS THE SHRED CIRCUIT?
So-Gnar is proud to announce Year 2 of the "Shred Circuit" traveling contest series, a 13-stop amateur creative contest series with one day stops in conjunction with So-Gnar's Snowboard Camp Tour(formally Mighty Midwest). "The Shred Circuit is all about having 100% fun while snowboarding" says founder and professional snowboarder Pat Milbery. "We have been hosting community based snowboard camps for the past 5 years at resorts all over the country and we have noticed the absence of creative, good energy through large groups of kids snowboarding together" Milbery says, "The Shred Circuit is a great outlet for the next generation of snowboarder's to expand the creative limits of snowboarding with their friends and receive national exposure!" The contest features will include traveling jib features, presented by the Tour Sponsors that will be set-up to cater to all ability levels. Judging, by the pro's will be based upon the rider's style, creativity, attitude and consistency through a session style format. At each stop, the first place rider will be awarded an all expense paid trip(including airfare, lodging, and lift tickets) out to Winter Park, Colorado on April 13th to compete with the other 13 amateur qualifiers.
So-Gnar's sponsors include:
Snowboard Magazine, Red Bull, Never Summer Industries, Zumiez, Zeal Optics, Boa Technology Closure Systems, Coalatree Organics, POW Gloves, Capix Helmets, Evol Foods, Purl Wax, Apollo Ink Printing, House of Stickers, Plutonium Paint, Allian, Elm & Oak,Woodward at Copper, and Clif Bar/Clif Kids.