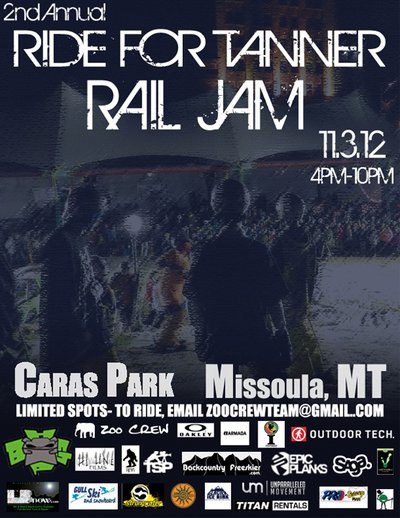 In the Summer of 2011 a good friend and a passionate skier passed away in a tragic car accident. Last year we put together the first Ride for Tanner Rail Jam. It was a great success with over 80 riders and an audience of several hundred, we shredded into the night in Downtown Missoula Montana.
This Year on November 3rd we are making it bigger and better in memory of Tanner Olson. All profits will go to the Tanner Olson Memorial fund which was created to help local kids have access to a new Bike Park(one of Tanners other passions) and to improve the freestyle ski scene in Western Montana. If you are anywhere in the area of Montana or even if your not you should definitely make the trip. We will have some awesome features and some awesome prizes!
We will be limiting the spots for riders so if you are interested in registering, contact zoocrewteam@gmail.com
Thanks to all of our great Sponsors!
Tanner Olson *Ski In Peace* 1997-2011 from Bobby Jahrig on Vimeo.