My paypal is locked up so looking for TRADES ONLY!
First up:
Oakley Splice goggles.
-Dumont frame and strap
-White riggers
-VR50 pink irrid lens
-9/10 condition, small bit of scratching on the lens, doesn't affect visibility
LOOKING FOR: Smith I/O, Other Splices, Electric EG2, Von Zipper Skylab, POC lobes, Crowbars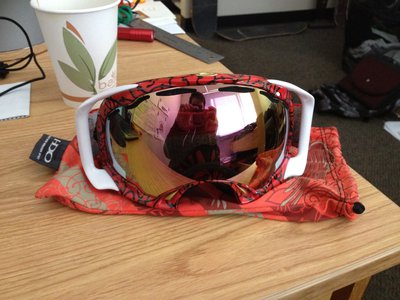 Second:
XL Orage Jacket
-9/10 condition for small stains on the sleeve cuffs
-Zipper length 33.5
-Perfect to wear over a sweatshirt
LOOKING FOR: Anything
Third:
XL Saga Pittsburgh pants
-Pretty baggy
-standard Saga fit
-9/10 for small rips on the cuffs, nothing major however
LOOKING FOR: XL pants, preferably LDC, other Saga pants, Causwell
+K for bumps and PM's
PM me with any offers or questions
Thanks for looking!