Good morning/afternoon/evening NS, got a couple items that still need a new home before I fly out to meet my fiance in Minas Gerais... already sold my skis and a pair of new electrics for 200 locally, for this stuff I'll be looking for PAYPAL only. Chime in here or send me a private message if you're interested in any of it, I'll ship priority 2-3 days with tracking anywhere in the US.
First up is a pair of Dalbello Kingston boots, model is 3 seasons back I think but only worn for a season and a few sessions and still in almost mint shape. They also have an A-line footbed cut to fit the boot inside with a small heel lift for forward pressure on your boots and a good stance, almost no shinbang this way and switch is a blast. These things sell for around 80 bucks here: http://www.aline.com/ and I will include them with the boot OR NOT depending on preference ( AKA wouldnt mind keeping them for hiking boots and knocking 50 bucks off the cost). I'll sell those for $200 with the footbed, $150 without.
Here are the boots-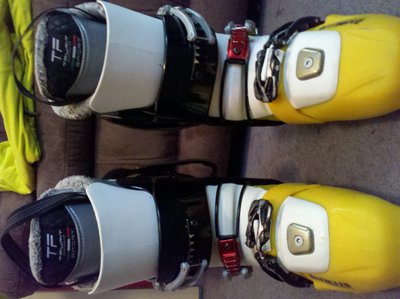 Skis not included, already sold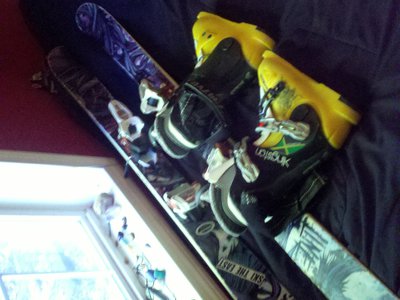 Also have a pair of Salomon SPKs black and yellow, I think these are 2 years older than the other but also only used for 2 seasons... these are a little more rough then the Dalbellos but still in good shpape and the same shell size 26, these I will sell for $50 plus maybe a little for shipping depending on the cost.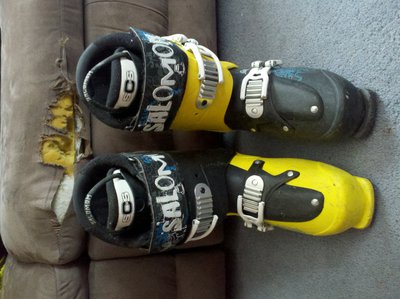 Next are the two jackets, both size large both worn for a little over a season. One is red and black first drop, 2 or 3 season old model still in perfect shape. It was sold in the set for $420 with the hood magnet sewn in backwards but it was never a big enough problem to cut open and fix. The other is a yellow Salomon gangster model from a year before that... other than light dirt on the sleeve cuffs and one cuff strap to adjust gloves needing a couple stitches this one is also in ideal condition.
Both with last at least 2 seasons in good shape... for the First Drop I'd be looking for $100, for the Salomon $75, here are some photos: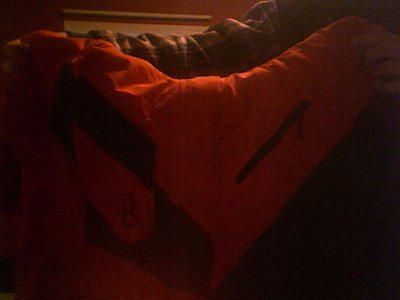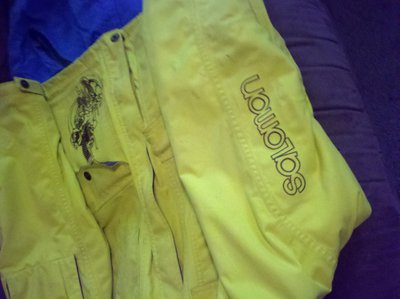 And that's all of it! Hoping this stuff will go within a week so I can start arranging the details of my flight... I'll be lightning fast on replying with info and shipping, so gear up for the season and help my stuff find a new home. Thanks for checking it out, bumps for +K all day