Rules:
-Buyer pays shipping(unless we make a deal otherwise.)
-bumps = +K
-prices can be flexible.
-PAYPAL ONLY
-will do local pickup if you live in boise
so i have a bunch of stuff that i would like to sell before this upcoming season, if you want anything in this thread don't be shy and send me an offer, i'll consider all offers and i want to get this stuff to you! ;)
-More pictures can be uploaded of items upon request(sorry if the ones in the thread are a little blury my camera sucks.)
-1st item: BRAND NEW WITH TAGS 3XL Jiberish Oceans Puffeh 10/10
this vest is super sick and is really comfy to wear. only taken out of the plastic to try it on. I'd like to get 65$
-2nd: Xl Armada Cruiser jacket 9/10
Awesome jacket, used for about 10 days this season and is super warm and super comfy. basically almost in like new condition (no major stains or rail burns etc...) 9/10 just because it has been worn and used. also has wrist gaitors that keep your hands super warm and cozy and awesome snowskirt! (still have the tags if you're into that kind of thing.) would like around 100$
-3rd: 3Xl FAS.C indeliable fas.c tall hoodie 8.5/10
Super sweet hoodie and very tall. has been worn skiing a few times and been worn around town a lot and has been washed a few times. Its still in very good condition though (no major stains or rips) but has been worn and has a few stains on the white that i'm pretty sure will come out with a wash and you can only see if you're like inspecting it. also a little bit of pilling on the cuffs. Would like 50$
-4th: Size M sessions terrain jacket 7/10
this jacket was used for a whole season and has some stains and a little wear on it. its a really warm jacket though (Water proofing still works and has a snowskirt) and pretty nice snowboarding coat, would be great to buy for a brother or son or something. asking around 40$?
-5th: Size S DC snowpants 6/10
Pants have been used for 2 seasons and are a little beat.(cut up on the bottom from clicking them into bindings. pretty cool pants though, still waterproof will let em go for cheap. around 30$?
-6th: size 28.5 rossignol boots(Don't know the name) 6-7/10
bought these boots this year at a ski swap and used them all season. kind of uncomfortable in my opinion but hey they're boots. Great for if you're just riding down the hill but not so great for jumps. will let em go cheap for like 30$
-7th: some ski flicks i have(Idea, Ski Porn, and will throw in traveling circus season 3 in there.)
sweet movies 5-10$ for all three or i'll part them out for like 3$ each.
-8th: K2 Ryker boots size 10.5 9/10
Bought these boots brand new this season and used about 5-6 times. super comfy boots, really easy to tighten with the twist thing and just great snowboard boots. around 90$
-9th: Gnu Riders' Choice, And 5150 snowboard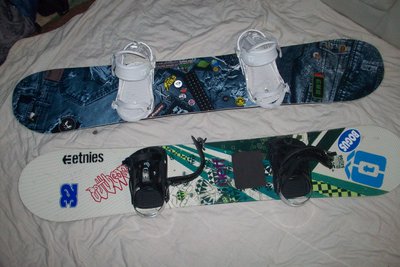 If you're interested in the riders choice check out my thread here
http://www.newschoolers.com/ns/forums/readthread/thread_id/707766/
the 5150 is an old snowboard though i'll let it go really cheap to whoever wants it like 30-40$
thanks for checking my thread out, remember don't be shy with the offers i want to move this stuff :)