hey friends.
i have some things forsale.
first off is a pair of 2010-11 moment bibbys
184cms in length
these skis are in real nice shape, only have around 20 days on them. i didnt get to use them as much as i wished.
only mounted once at 2cms back from center for large barons.
bases have no serious shots, some small nicks here and there but nothing you would notice while skiing. 8/10
topsheets are in great shape, normal wear from touring and such, but no serious chips or delam. 8/10
edges have no cracks or anything.
looking to get 275 bucks plus shipping. does not include bindings.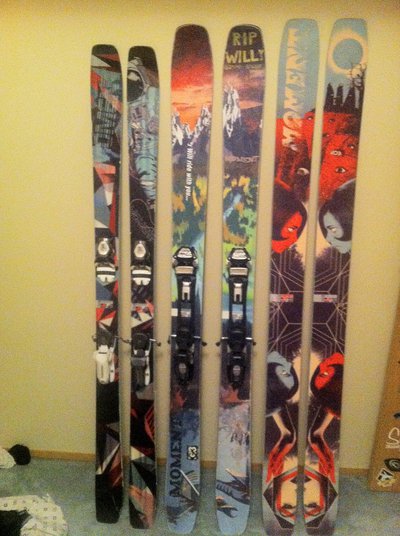 hopefully i dont need to tell you they are the middle ones. will get more pictures next time im home.
i also have 2 pairs of large black fult tilt tongues forsale, one is #6 flex and one is #10 flex. both have been used for one day. looking to get $25 bucks per pair, regular is $50 and these are basically brand new.