Hey NS, I am selling a bunch of gear that I no longer need and am trying to get rid of it quick so throw me a reasonable offer and Ill see what I can do to hook you up! Please serious bidders only! Salt Lake City pick up is preferred but will ship; item prices do
not
include shipping unless otherwise stated. Im reasonable and can work out something if you need them shipped. PAY-PAL only if items are being shipped, cash is preferred for pick up! If you would like to bid, shoot me a PM, I don't have time to sit here all day and watch this thread. Willing to make a deal if you purchase tops and bottoms together! All items are legit and outerwear is in excellent condition, I blew my knee out last year so most of these items sat around all season. All items will include stickers and if you bundle items I will hook you up with something nice! Thanks for looking; now lets get this sale poppin!
The first item up for sale is an older Saga Outerwear piece; size Large Anomie; Vader. No question this jacket has seen some days but needs a new home, looking for $30 shipped!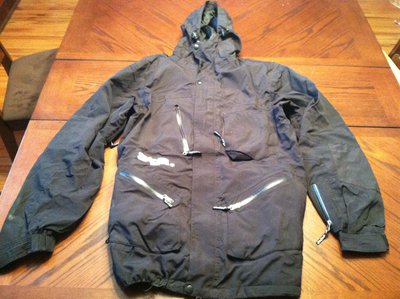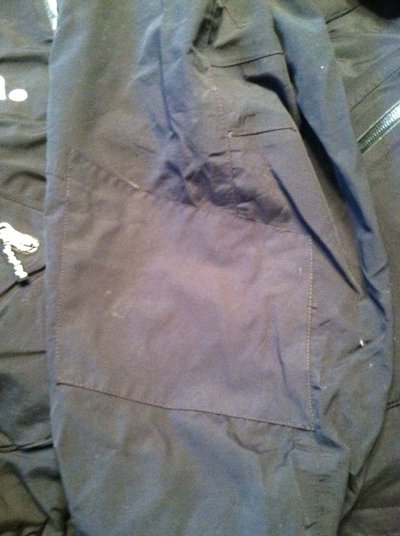 The next item up for sale is some Saga Anomie pants from 10/11 season; Size XL Purps. Well warn also but lots of life left in these babies!, looking for $60 shipped!
Next item up; Saga Anomie Jacket 10/11 season; Ghost Size Large. This thing is mint, worn like 10 times tops. Has a few really small stains and if you were to wash it, im sure it would look like new! I would give this a 9/10 only because it has been skied in and has a few small dirt spots(its white). Looking for $150 shipped.
Next up is a Saga Anomie Rip City Red Jacket Size Large 11/12 season; worn 30+ days; 7.5/10. Only a few small dirt stains, other than that thing is in great shape! Looking to get $160 PLUS shipping (Firm).
Next item; Saga Anomie Purple Rain Pants size XL 11/12 season; worn 10+ tops, 9/10 things are in prime shape, only a few days on these. Looking for $120 PLUS shipping (firm)!
Next item up for sale. Saga Anomie Murder Mystery size Large Jacket 11/12; worn 10+ days tops, 10/10. Absolutely nothing wrong with this item, thing is perfect! This jacket and the last pair of pants saw more time in my closet than they did sun!
Next, Saga Shutout Jacket size Large, this thing is one of my favorites that we have produced to date and am having a hard time to let it go but as they say, out with the old and in with the new new! Thing is so comfy and worm, wore this around town only, never even saw a ski hill! Thing is also in prime condition, i would give it a 8/10. Looking for $100 PLUS shipping!
Next, Saga Enlisted Vest Grey size Large. Wore this like 5 times, killer piece just didn't get to ride any spring laps and thus never wore it other than around town a few times! Mint condition, 9.9/10! Looking for $80 PLUS shipping.
Next item; I have some Atomic Blogs with Marker Jester bindings; drilled once, never remounted! Skis have been ridden about 60-80 days roughly and have lots of life left in them. Easily one of my favorite skis ever! Bindings are a little older and have been skied closer to like 200 days, but still a great binding and make an awesome combo! I prefer not to split the binders if i can help it but throw me an offer and we will talk! Looking to get $350 for both skis and bindings PLUS shipping!
Next item: I have a brand new pair of Atomic Blogs from last season, new in the wrapper! Never been skied, never even seen snow! Things are super fun and probably the best graphic to date! Looking to get $300 PLUS shipping for these bad boys!
Next item: I have a pair of brand new in the box MFD Alltimes touring plates. These things are beast mode if you are looking for the ultimate burly touring set up that you can send anything in site. These are the Salomon/Atomic plates so only compatible for those drill patters. Looking to hook someone up with these, will sell for $180. (retail for $300) All hardwear is included in the box!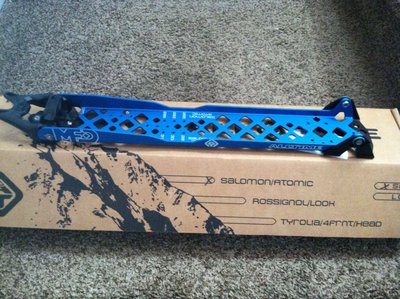 Next: I have a pair of Dalbello Ill Moro's size 27.5, these were purchased back in 2010 and skied them for 2 seasons. Probably one of the better colorways that were sold before all the Rasta T-Hall prints of late. These boots rock and are a great park boot, just not stiff enough for me. Super comfy and the liners have only been molded once, plenty of life left in these for such a great boot! Ratchets are in great condition, toes and heels are slightly scuffed but overall good condition and the buckles are good too. One of them no longer has the spring mechanism left in it but still buckles tight and holds in place, no need to worry there! Looking for $180 PLUS shipping!
Last but not least; I have some used Oakley Crowbars with pink iridium lenses. These are not in the best shape but just need them gone, too much gear obviously and don't need the clutter. Willing to sell for dirt cheap or will throw them in if you purchase a full saga suit! The frame is in great condition and the riggers and straps are great, lens is a bit scratched and has been used for a back up. Definitely isn't the best lens but will work well if you have nothing else! Looking for $25 shipped!
I may find a few other items and add them later but this is all for now! Hope you all find what you need and are stoked on the sale, early season prices so offer up, if you think something is over priced, let me know but don't be a douche! Haters gonna hate so keep it out of my thread as much as possible, just need some flow for one more surf trip before the snow flies! PM me with questions and bids, ill try to check regularly as Im sure this will blow up quick! Thanks NS, be sleezey!