The mark iii body arrived the other day, along with a new editing laptop. Stoked on that.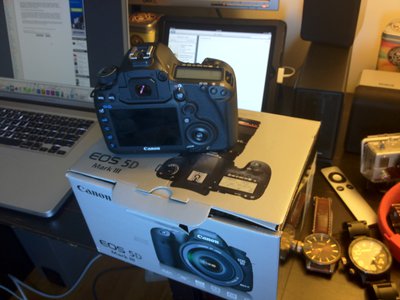 I don't buy those wack lens kits, since I am not a still photographer - just the body. This is my first jump into HDSLR filming, so any input would be appreciated before I go ahead and order the (first) lens and the rest of the cine rig by the end of the day.
Laptop: brand new 2012 Macbook Pro 17", 2.5 ghz i7 quad core processor, 12 gb ddr3 ram, 512gb SSD harddrive, anti-glare screen, et. cetra. Rendering/doing anything = ridiculously fast.
The full HDSLR rig:
1. canon 5D mark iii body
2. Lens= Zeiss CP.2 50mm OR 35mm T2.1 cine lens compact prime (first lens to support shooting 35mm FULL FRAME [w/ the 5D mark iii])
3. Rig body = Redrockmicro Cinema bundle (mattebox, blue followfocus, etc) & Redrockmicro Deluxe shoulder mount attachment kit (easy swapping between tripod/crane/dolly/slider shooting + shoulder mount/glidecam/lower-gripped handheld shooting)
4. shooting/field monitor = SmallHD DP6 true HD 5.6 (one of the most amazing and thoughtfully designed products that I have EVER seen & as well as the best monitor to buy hands down. )
5. Rode VideoMic pro directional mounted mic (The 5D has direct audio inputs compared to the mark II!)
6. Accessories: lens gears, redrock micro mount w/ micro spud, . For now.
That just is absolutely the end of my budget right there. Can't spend a penny more for now.
Anyone who owns a professional HDSLR cinema rig setup - again, any input before I purchase the rig and components this evening would be appreciated. I have done a lot of research, reading, watching video comparisons, and talking to people - and while pricey, I have my specific reasons for choosing RedrockMicro for the full rig itself, and the Zeiss CP.2 - so please don't tell me any of this is 'overkill' - this is actually a barebones rig, just a top-shelf one.
* - My main question lies with the size of my lens choice:
- IF you could only afford to buy 1 Zeiss CP.2 cine compact primes (which is my case at $3900 each, im poor), would you get the 35mm or the 50mm? They both have the same T2.1 and are the same price. They both shoot full frame 35mm and attach to the 5D mark iii naively with no adaptation. In a sense, the CP.2 seems to be almost built for the Mark 3... At first I was set on the 35mm... but now I am thinking about the 50mm because of the DOF and since it will be the only lens I have with my 5D rig for at least a week or two.
- I would be adding a cheaper solid general zoom lens, a wide-angle and then eventually perhaps another Zeiss CP.2 prime when I can afford it after I start working with this rig & my studio. I would love to own the entire CP.2 set of cine lenses... soo dope.. but one step at a time.
I will post a review with full pictures and everything when the rest of the rig arrives!