They are both younger, but this kid is stupid as fuck. my brother uses his superior intellect to teach the kid. (with a little help from EDollo)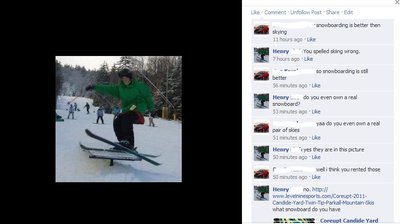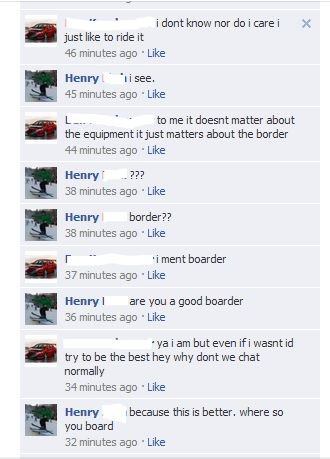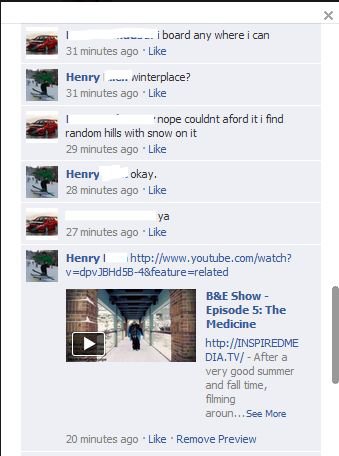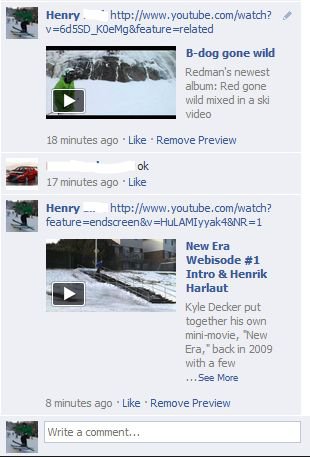 Cool story? Hell yeah.
Heres another one he wrote for english class.
I was sitting in my house, watching TV. I yawned. Today had been so boring. It was the weekend, and it was too cold to do anything outside. Anything, that is, other than ski, but my parents weren't home and couldn't drive me to any ski slopes.
A faint sizzling reached my ears. It seemed to be coming from my room. I got up off the couch to investigate.
As I walked through my door, I was horrified to see my skis glowing with an unearthly light. Suddenly they disappeared, and in their place appeared a bandana-shrouded fairy godfather.
"T-Hall!" I whispered in awe as his Rasta tall tee ruffled in the breeze that was strangely blowing across my room.
"Hello, I'm your fairy godfather," he said as his fairy wings fluttered slowly. "I'm going to give you these CRJ pow skis and a cat trip to the British Colombia Backcountry. I also will give you the secret location of Chad's gap."
"I am forever in debt to you!" I said. He vanished, and where he had stood, there were my new fatty rocker-camber-rocker pow skis, and a map with the location of Chad's gap marked clearly upon it. I picked it up, and suddenly I found myself fully equipped in saga gear in the BC somewhere.
There was a Cat beside me, complete with a knowledgeable driver. I jumped in, and it took me to the top of the run up for Chad's gap. I hopped out, clipped in, and began my switch descent to the booter. I flew off of the lip at blistering speeds, spinning a full 900 degree rotation. I landed with pretzel-man like afterbang right on T-hall's ankles.
I spent the rest of my time shralping gnarr pillow lines in the BC. I was back home in time for dinner.
He got a 100%
Are your lil siblings as cool as mine?