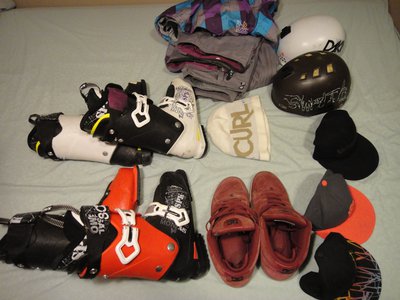 Things To Note:
-Paypal Only
-Will ship to Canada and US
-Free Stickers with purchase
-Prices are negotiable
For Sale:
28.5 Salomon SPK Kaos - 8/10
Used this boots for only one season. No broken buckles, only minor cosmetic damage, Velcro strap still works fine, has purple material from pant on it. $150 + shipping
27.5 Salomon SPK Kreation - 7/10
Boots from two seasons ago. Just like the ones above, no broken buckles and only minor cosmetic damage. Velcro strap is in prime condition. $75 + shipping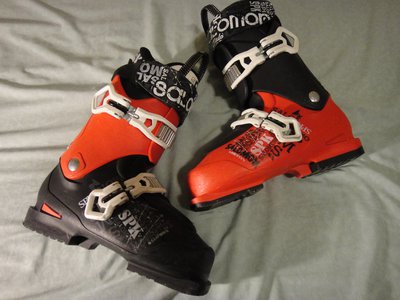 11 DC Tactic Mid - 7/10
Wore these shoes for roughly a month, and never really wore them again. Still in fine condition with plenty of tread left, they just look a little rugged. $40 shipped
XL Special Blend Jacket - 8/10
Had worn this jacket for this past season. It's a technical shell, 15K Waterproofing, snack pocket, mp3 pocket, season's pass holder, powder skirt, and waist clinchers. It has one tiny rip along a seam about one or two inches in length. $60 shipped
M Volcom Thermonite Pants - 7/10
Pants worn with the jacket above from the past season. 15K Waterproofing, waist clinchers, season's pass holder, leg vents, and boot hooks. Two major holes on the right leg, going through two layers but not the last one. $45 shipped
M Smith Holt Chocolate - 8/10
A super comfy helmet that I had for around one season. Has removable ear pads and liner. One spot of velcro is missing for the liner, and the GoPro mount and stickers can be removed upon request. $40 + shipping
M K2 Rival White - 7/10
Had this helmet from two seasons ago and wore it for a couple days in spring. Was an adjustable helmet, but that feature is removed. Still works awesome with a thick balaclava or toque. $20 + shipping
Things You Put On Your Head!
- DC Flexfit Cap (6 1/2 to 6 7/8) - 8/10
- New Era Fitted Cap (7 1/4) - 9/10
- Starbury Fitted Cap ( 7 ) - 7/10
- Ripcurl Toque - 8/10
All are $10 shipped
How the toque looks: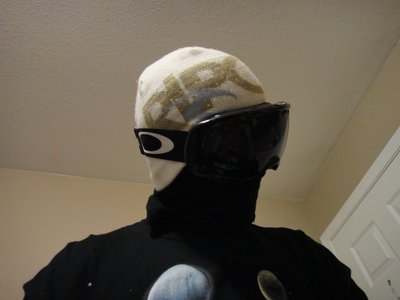 8GB iPod Nano - 9/10
Got this iPod for a birthday a year ago, but then bought an iPod Touch soon after, rendering the Nano useless. I usually had it in a case, so there are very few imperfections to be found. $60 shipped
Kaskade Freaks Of Nature Tour Tickets - 10/10
Rockstar Energy Presents
Kaskade
Freaks Of Nature Tour
PNE Forum
Sat, Aug 11 2012
DRS: 6:30PM/ All Ages
Row: GEN Seat: ADM
This two tickets are pretty self explanatory. It's a General Admission ticket to see Kaskade at the PNE in Vancouver. PM me for any additional info! $200 for both, $100 each shipped
All purchases come with free stickers. If motocross is your thing as well, I will throw some other stickers in too.