ok so i did some cleaning up in my room and now im trying to get rid of stuff. ok so here is the sale. please read the thread so i dont have to send a whole bunch of PM's over the same questions.
Question i hate the most. How much for _____? it will either be listed at a certain # or OBO. if its just OBO that meens you should just send me your offer and i will post the high offer. I like trades
Trades i like are Jiberish, saga, supreme diamond supply. stuff like that. anyway feel free to offer Anything you want to offer. who knows i might like the trade. I also have cash so if needed i can add money so dont be afraid to offer a trade and have me add cash if needed. also for jiberish i basically want m-l or 2x-4x.
ok first are some rasta sector 9 sliding gloves. they are size large/XL and are brand new. they have kevlar finger tips which is pretty nice. i bought them for 40 or 50 bucks and would like to sell for 30 or trade for something. 10/10 condition.
next is a freebord. i got this slightly used. there is some cosmetic damage. scratches and stuff like that but not too much and it still rides perfectly. i only rode it a few times and it just wasnt for me. this thing is made to basically be ridden like a snowboard but on the street. anyway its pretty sick and willing to negotiate on price. OBO would rather do a local pick up but if you are willing to pay for the shipping then i will ship. would say like 8/10 condition.
next is an electric autumn size XL its 8/10 condition just for a slightly wavy zipper. i would like to trade or sell for a reasonable offer. THIS IS CURRENTLY NOT IN MY POSSESSION. I traded it to gnarskiing who scammed me but he says he is sending it back and i have a tracking #. i will post once i get it back/ if i do.
next is a rare jiberish piece. a from our earth crew in a unreleased sample colorway. idk how many were made but i do know they were never released for sale. it is size medium and i will be honest it fits kinda tight. so for you smaller guys that want rare jiberish that barely anyone has here is your chance. or if you would just like to add to your collection its a sick crew to have. haha FOR TRADE. will only sell for a good cash offer. 9.5/10 nothing wrong with it. also modeled by curious george for those of you who are wondering. haha OBO
finally a 2x red iggy. i only want to give this for a good trade or a very good cash offer. OBO or a good trade. 9.5/10 condition nothing wrong with it. i am fine with keeping it just so you know.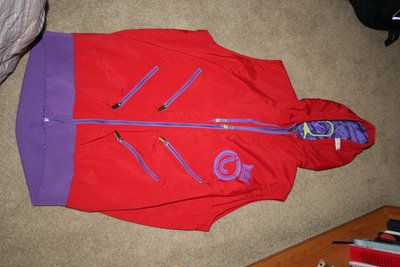 thats it NS! feel free to ask me any questions.