Hey guys!
I'm going to order black livestrong-style bracelets with light blue writing that say "I ski for Sarah" on the outside, and then in non-colored writing on the inside, "9/3/82 - 1/19/12"
I just want to get an idea of how many people would be be willing to throw down a couple bucks for one, I'm estimating the price will be 3.50 each, and I'd obviously make deals in the event that people buy multiple.
font will look like this (disregard "back message") -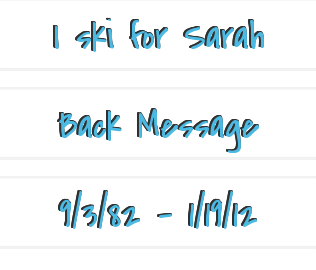 If you'd like one, or a couple, PM me the number of bracelets you'd like. I want to get a rough count along with the usernames, then I will order them and start collecting shipping info...