Welcome to the RAFFLE.
Everything in the picture is being given away to the winner.
Saga Color Block Tank (Teal XXL)
3 Xbox Games:
Halo 1
Halo 3
Call of Duty 3
YOUR dollar BACK
plus ANOTHER dollar:
Total of 2 Dollars.
Saga, Smith, Uni, Joystick, and Causwell Diecuts & Stickers
DC Shoe Co. Snap Belt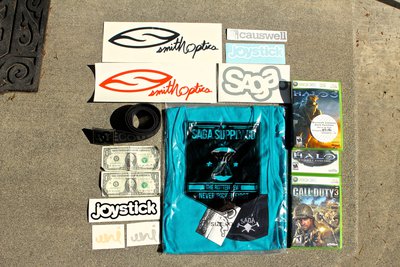 RULES:
To enter the raffle, it costs $1. Yes. You could win everything above for $1.
$1 gets you 1 entry. $2 gets you 2 entries. And so on. The more entries you have, the more likely you win everything in the picture.
Entries will stop on Saturday morning at 12:00AM PST
At that time, all the entries will be compiled into a pool and the winner will be unbiasedly and randomly chosen. At that point, I will ship everything out for free to the winner.
PayPal only. Get at my legitness in my feedback page. I will confirm the entries with whoever PMs me for a spot. PM me with the name that will appear on your PayPal and how many entries you want. I will update the thread with the pool size.
If you are from Canada, expect to pay shipping.
Other than that, have at it.