Will ship at buyers expense, CASH ONLY. No trades, dare i say it, I have enough jiberish.
1st, 169 ar7's twice mounted,1st mount filled second is for a px12 with a 315 bsl at true center. a few HAIRLINE edge cracks, all edge is fully intact. bases are good otherwise. Still have a ton of life left. would like 150$ OBO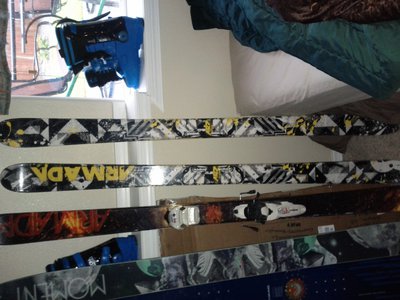 2nd, 181 Thalls, currently mounted at a 326 bsl with Marker Jesters, bindings in 9/10 condition, one of the skis edge is pretty beat but still rides fine. other ski has a few edge cracks. Would like 350 for the setup or 175 for the bindings 175 for skis. Note that the base pic where it looks like a coreshot, it was just a hazy p tex job.