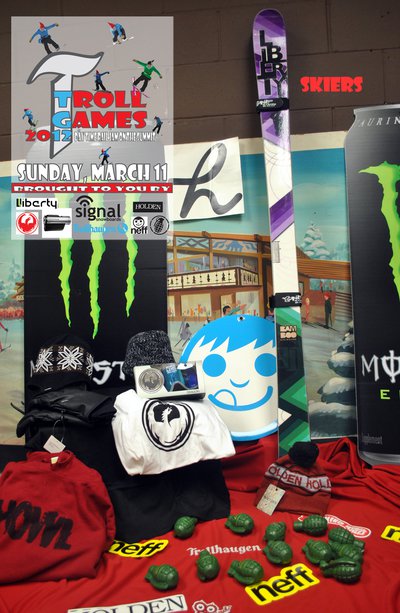 Buy One, Get One Free Lift Tickets Sunday, March 11!
Rail Jam in the Troll Summit park (Prize list below).
Twin Tips will be judged by Twin Tippers.
Costume Contest! DJ ESP Woody McBride spinning live on race hill. Free dogs & brats 2pm-4pm.
Rail Jam Registration ($15) 10am-1pm, and the jam will start around 1:30 to give everyone time to get there and register. Live DJ on the hill. Crazy set-up.
Primary Sponsors: Liberty Skis | Dragon Alliance | Grenade Gloves | Ashbury | Contour Cameras | HOWL | Signal Snowboards Additional sponsors: Neff | Holden | Monster
Skier Prizes (as of 03/08/12*):
1st. Liberty Skis Package | Holden Hat
2nd. Dragon Goggles | Dragon Heavy T | Neff Hat
3rd. Howl Hoodie / Beanie / Gloves Pack
4th. Neff Hat
5th. Neff Cap
Make your presence known!