Okay, so lets try this again... I have these bingdings for sale, brand new, never used. ONLY negative is that one is missing a brake (lost it). other than that, they have never been mounted, used, or for that matter, they havent even left my bedroom!
heres a pic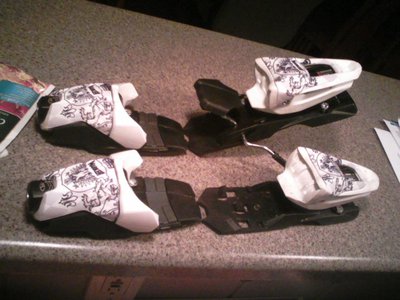 https://www.snowflakeskishop.com/commerce/detail/index.cfm?nPID=6153
they are 130 + shipping online- im looking to do 100 shipped, but feel free to try to jew me down to what u think is a negotiable price, just please no lowballs.
Specs-
Classic Freeride
Introducing the 10.0 Free, the ideal binding for first-time park and pipe ski owners looking to improve their skiing.
Din range: 3-10
Recommended skier's weight: 65-210 lbs
Stand height w/o ski: 22.5 mm
Toe system: Two linkage
Gliding AFD
Step-in heel: Compact FT2
Royal Family graphics
85 mm freeride brake
PM me or text me. 413 896 6834
my names tom