University of Pittsburgh is hosting a showing of PBP Grand Bizarre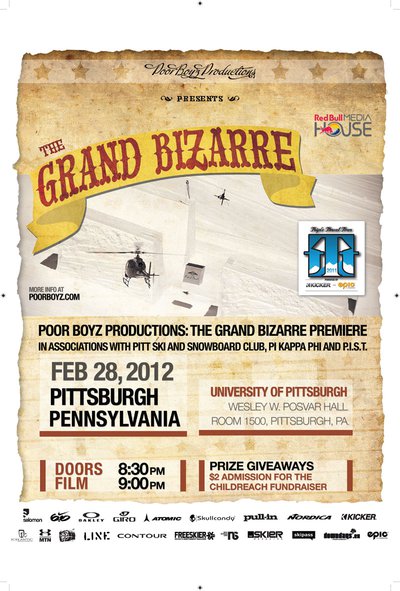 FEBRUARY 28TH
1500 POSVAR HALL

Admission is only 2$, TWO DOLLARS, and all money is going toward CHILDREACH fundraising, which is a program in which a group of students will travel to Peru to build schools for children.

Upon entry you will receive a raffle ticket for goods donated by Willi's Ski Shop, can buy more.

It should be a good time and Childreach would greatly appreciate your donations!
Redbull will be there handing out drinks like its no big deal.

We will be in a campus building, but help yourself to pregaming the movie and as long as we cant see bottles or cans of booze you should be good. BUT if you do get out of control it will be dealt with.

Come out have a good time, what else do you have to do on a tuesday night?


Sorry for not posting in regionals, but no one ever looks there anyway.