So as I usually do at the end of the year now, I am cleaning out unused or old stuff and practically giving it away in hopes that the items will find a happy home with someone who might not be able to afford to buy what they want. So please, don't buy this stuff if your parents buy you stuff or if you have a great job, but let it pass to those who are working their way through college or save up all year just to buy a set of bindings and are riding on five year old skis. On most items shipping in the U.S. is like $10-12. And sorry it just isn't worth the hassle of sending stuff to Canada. PayPal is only form of payment and I don't want to trade anything. All items are in the one picture: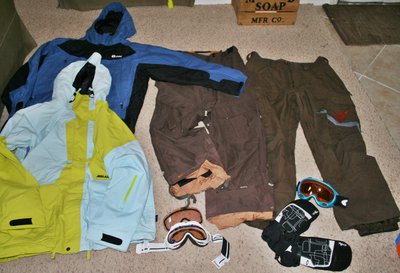 Starting at the top left and going clockwise:
1) Ground Bivouac Jacket. New with tags. Size large. retailed for $350. Baggy fit. 10k, lightly insulated. $20 plus shipping
2) Sessions pants - large. Can't remember the model name, but they are Gore-Tex and about 2-3 years old. Were really nice at one point. Used well for a couple of seasons with marks and wear and tear. $10 plus shipping
3) Burton 3L pants. Large. Lightly used in excellent condition. These were $250 about five years ago. 20k/20k, fleece in butt and knees, otherwise a thick shell. Really nice pants. $15 plus shipping
4) Oakley A-frames, blue with persimmon lens. Overall good condition with a small scratch or two. $10 plus shipping
5) Oakley Mittens. Can't remember model name. Size medium. Wife used them once in our back yard. basically new. Cost me $70 as a failed Christmas present :) Yours for $15 plus $7 to ship.
6) Smith Anthem goggles. For very small faces. Used a few days by a friend. $5 plus $7 to ship.
7) Smith IO/S flat light lens. Never used, but I think it does have one small scratch. $5 plus $5 for ship;ping.
8) Armada Cruiser Jacket. Lime / Cloud. XL. Used once, bascially new. only $75 plus shipping.