This is getting insanely ridiculous. East cost is suffering BAD, and everywhere esle stateside is hurtin somewhat also i believe. I mean... i can't remember the last time I drove out to my home Mountain mid Feb, and see no trace of a snowbank whatsoever.
I've been holding back, but now i'm going to explode. Where are the glades?
Where are the snow plows that are annoying as fuck to pass?
Where are the snowy parking lots begging to have donuts in them?
Where are the 5" east coast pow days?
Where is that annoying little fuck that pummels me with snowballs whenever i leave my apt?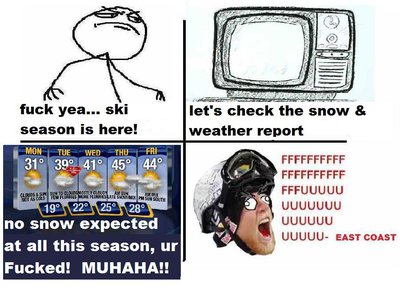 Are we fucked for the rest of the season or what?