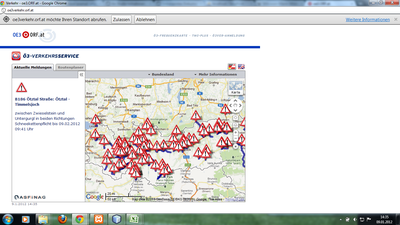 thats the traffic situation right now here in tirol,austria because of DEM LOADZ OF SNOAW. wherever there are no warning signs, there are no major roads.
the road to my hometown (lower left corner is closed) and shit really hit the fan here. an avalanche even buried some cars before it was closed.
just so you know there are always two sides to the story, not much snow sucks but too much also. needless to say that its fucking dangerous to powder right now and i am waiting on how many people died this week.
i missed dem pow pow because i met with my girlfriend in innsbruck which is in the middle of the picture and couldnt get back into the valley and had no skiing equipment with me.