Just two things to sell today. I'm in Canada and would prefer to ship in country but I will ship to the US as well, at YOUR expense. Prices do not include shipping and are in CAD.
First up, last years Tecnica Agent 110's. Size 27.5 Skied 40ish days last year, lots of life left. Vibram soles on these bad boys. I found the toe box pretty small, so I had a bootfitter remove a couple stitches around the big toe area of the liner to give a little bit more room. These retailed for about $800 up here in canuckland last year so lets say $250.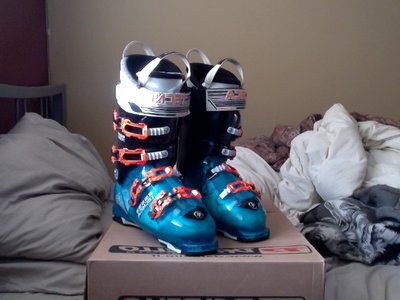 Next is a tree clothing hoody. Bought it in Whistler in august this summer and planned to ski in it. Never ended up using it, this thing is in prime condition. Never skied in, or even worn outside, never washed either. The best part is this thing has zip off sleeves so all you groms can get hyphy while you kill hippies and such with vest steeze. Size XXL, this thing is big, about 38" from shoulder seam to the bottom along the front. Pictures for reference, I'm 6'1" 220lb. I think I paid around $120 for it this summer and would like to get close to that since its pretty much new. Offer up.