PAYPAL ONLY!!!! CANADA USERS PAY FULL SHIPPING COSTS

First off, I would like to sell my 2012 Saga suit. Both pieces are size Large, and I have the Caulfield Gray pants and the Tim Durtschi pro model jacket. Both are brand new, the pants are still in the bag with tags, I took the tags off the jacket because idk why. Have only worn the jacket to try on, and I have so many snowpants I don't really need the pants. Would sell the suit for 320 + shipping, but willing to sell separately for 220 for jacket, 150 for the pants.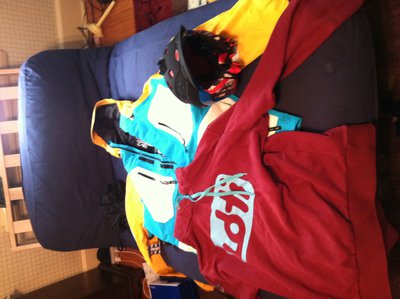 Also selling the LoHi in the pic, size 2XL, feel free to make offers.
Also for sale I have a used Medium Smith Variant Brim and a BRAND NEW Medium Smith Holt, feel free to offer on those as well.
Also up for grabs are some slightly used DNA shell pants, size large. Ripping around the cuffs, I would say 7.5/10.
And a brand new 3XL Pin Swipes Blue, 30 shipped or offer up.