Hey guys. Help me finance my semester 2 partying buy taking some gear off my hands! Even if you don't buy anything, thanks for looking/bumping the thread!
Rules:
-Paypal is strongly preferred
-Will consider trades, unless I specifically say cash only for an item
-All prices include shipping (to USA) and are OBO. I'd rather hookup a NSer for cheap than have an item just sit in my closet unused
-It's helpful if you both post and PM
+k for bumps of course
1. XL A La Mode Gray (2011, winter drop 1) 9.5/10 worn to class a few times, never washed. Tiny spot of discoloration due to soda or something, spot is smaller than a dime. Can provide a pic if requested but its really hard to see/get a pic of. Looking for CASH ONLY please. $70 OBO
2. XXL TNF Hoody 8.5/10 worn skiing under a jersey a bunch of times, don't be deceived by the picture, this hoody is VERY BAGGY. It has a very small stain on the back that is slightly darker than rest of hoody, but not very noticeable at all and won't even show up in a pic. Looking for $30 OBO
3. 4XL Macho Blue (2011, winter drop 2) 10/10 brand new never worn or washed. Looking for TRADES ONLY, 3XL-5XL Jiberish from any year
4. L/XL Armada Inverse Gloves 7/10 Best pair of gloves i've ever owned, had a slight tear in the thumb that was sewed by my talented mother, also white leather is scuffed in places. Fit like a Large or XL but i'm not sure the exact size cuz the text on the tag rubbed off. If you are worried they won't fit, i'll measure them for you for reference. These are not pipe gloves, they are super comfy and warm. Great for days from 5-40 degrees F out. Looking for $30 OBO
5. M 4FRNT T-Shirts 9/10 on both, have been washed and dried. These are streetwear size, about 26" from neck to bottom. Under 6 feet and they'll fit you. Love the designs but I outgrew them. Looking for $10 each or $18 for both, OBO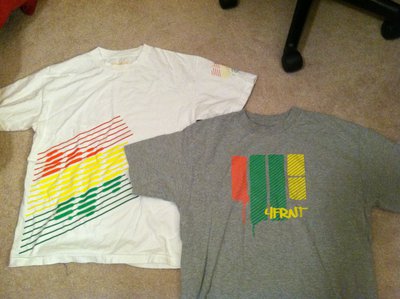 6. Assorted Bandanas Neff, tye-dye, and checkered Dakine are brand new 10/10, black square one is 9/10, and Empire skull face is 8/10 and has seen the most use (like 10ish days). Black square and skull are the usual cotton, tye-dye is really thin breathable cotton (i think), Neff facemask is warm furry material with a breathing hole, and Dakine is like that breathable more synthetic material. Looking for $7 each, $12 for 2, $16 for 3, all for $20. OBO of course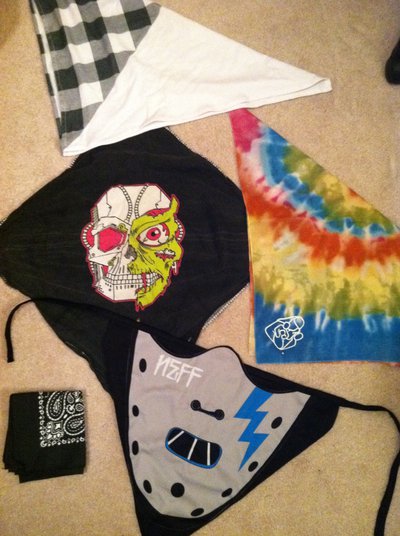 Thanks for looking guys, +k for bumps!