Just rewatched GNAR to get pumped for NY mountains finally gettin up and running. Anyways I treated myself to a whole new setup this year so I'm selling what's not getting use. Thanks for looking guys
Rules:
-Paypal is strongly preferred
-DISCOUNTS for buying 2+ items
-Will consider trades, unless I specifically say cash only for an item
-All prices include shipping (to USA) and are OBO. I'd rather hookup a NSer for cheap than have an item just sit in my closet unused
-It's helpful if you both post and PM
+k for bumps of course
1. 4XL Macho Blue (2011, winter drop 2) 10/10 brand new never worn or washed. Looking for TRADES ONLY, 3XL-5XL Jiberish from any year
2. XL A La Mode Gray (2011, winter drop 1) 9.5/10 worn to class a few times, never washed. Tiny spot of discoloration due to soda or something, spot is smaller than a dime. Can provide a pic if requested but its really hard to see/get a pic of. Looking for CASH ONLY please. $70 OBO
3. L Special Blend Jacket 8/10 couple random marks but very hard to see due to the color pattern. Has 10k/10k waterproofing, ipod integrated pocket, vents, etc. All the good stuff. Will fit nice and baggy on anyone, but if you're over 6 feet it will not fit really tall or anything. Looking for $45 OBO
4. XXL TNF Hoody 8.5/10 worn skiing under a jersey a bunch of times, has a stain on the back that is slightly darker than rest of hoody, but not very noticeable at all and won't even show up in a pic. Not a super tall fit, but will fit tall on anyone under 6 feet. Looking for $30 OBO
5. Scott Alibi Limited Edition Goggles 9.5/10 used one season, lens is BRAND NEW (i damaged the original so I had it replaced). It's not 100% reflective like a fire iridium but will reflect a lot in daylight (see pic). Really dope fitting pair of gogs, super comfy on your face and great field of vision. Looking for $50 OBO
6. L? Armada Inverse Gloves 7/10 had a slight tear in the thumb that was sewed by my talented mother, also white leather is scuffed black in places. I think they are Larges but the tag rubbed off so I can't be sure they aren't Mediums, so if you want measurements just ask. These are not pipe gloves, they are super comfy and warm. Great for days from 5-40 degrees F out. CANT SHIP TILL AFTER CHRISTMAS (i get new gloves for XMAS) but offer up and I will reserve them for you. Looking for $30 OBO, already have a few offers so get at me ASAP
7. M 4FRNT T-Shirts 9/10 on both, have been washed and dried. These are streetwear size, about 26" from neck to bottom. Under 6 feet and they'll fit you. Love the designs but I outgrew them. Looking for $12 each or $20 for both, OBO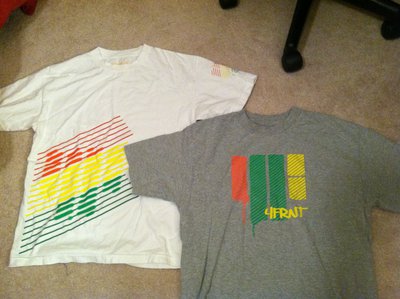 8. Assorted Bandanas Neff, tye-dye, and checkered Dakine are brand new 10/10, black square one is 9/10, and Empire skull face is 8/10 and has seen the most use (like 10ish days). Black square and skull are the usual cotton, tye-dye is really thin breathable cotton (i think), Neff facemask is warm furry material with a breathing hole, and Dakine is like that breathable more synthetic material. Looking for $7 each, $10 for 2, $15 for 3, all for $20. OBO of course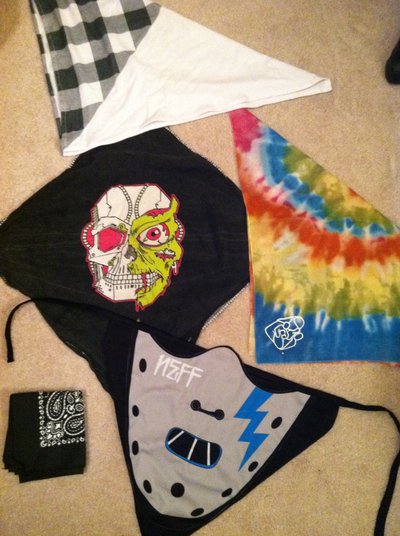 9. S/M Skullcandy Audio Insert for SCOTT Helmets 9/10 used for a season but works flawlessly. This is the only picture I have, sorry. $20 OBO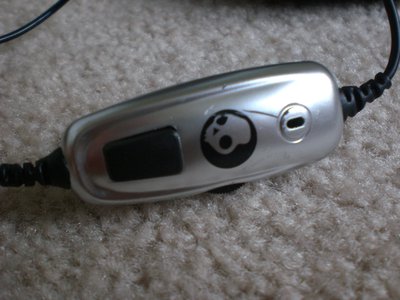 Stickers/diecuts with every purchase! Hope you all get plenty of shredding in over the holiday!