An attempt to make a bible of solly info for tech talk users consolidating 4-5 different 997 threads: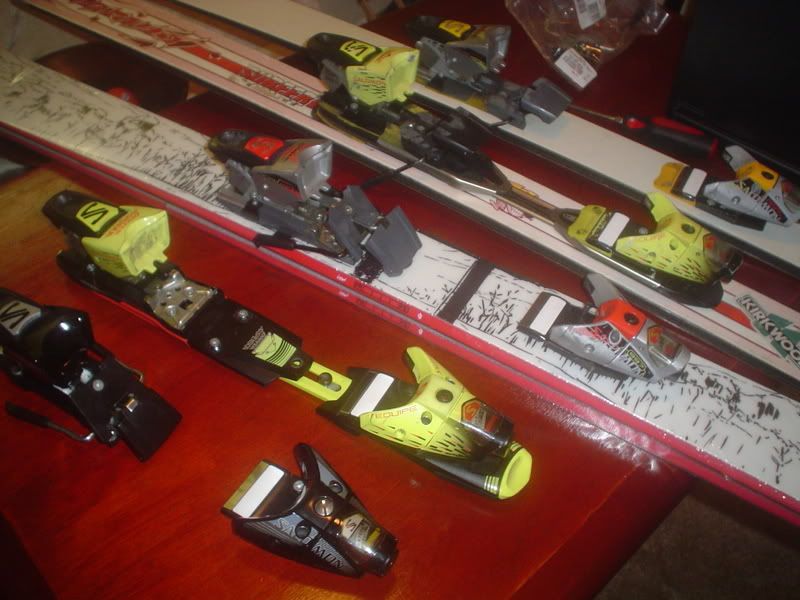 punani stash
L-R
1) 997 Carbon. non-Equipe. DIN 4-12. Plastic heel. Heel has tab adjustment.
2) DR9 Equipe w/ Driver Suspension plate. Din 6-14. Heel has worm screw adjustment,
3) Silver and red 997 Equipe w/ Driver Suspension plate (not shown). DIN 6-14. worm screw
4) fluoro yellow 997 Equipes similar to #2. Originally came with yellow plastic driver shims. These ones are mounted on aluminum plates from an s900.
5) Silver and yellow version of #3. Mounted flat. DIN 6-14
On current salomon bindings:
From Mechmaster:
912 and 914 are essentially the same binding with different release range. Plastic toe. 912 Ti has a titanium heel track; we saw a few of those break back in the day. The 912 has been discontinued for the Z12; the 914 has had the spheric mechanism removed in favor of a fixed AFD (LAB model) or the Z12 style AFD.
916/920 are the same binding except the 920 has an additional spring to yield the higher DIN range. This design is unchanged since the days of the 997 Equipe. These bindings are all metal.
FIS branded bindings have lower stack height than "standard" bindings to get racers under the FIS limit for riser height. Equipe race 916/920 are the classic separate toe/heel design. The Lab bindings use the ZZ interface; there is a bar which connects the toe and heel (sort of like the ESS VAR from back in the day).
Some Salomon history, from Mechmaster:
The fundamental design of the Salomon performance toe has not changed appreciably since the 957. This binding included the "dual inclined pivot" toepiece, the second generation "Equalizer" (upward release mechanism), three-point connection with the boot toe tip and the upper surface of each side of the toe, and removable brakes. The heel design is essentially the same as the 747.
If I recall correctly (from memory), here's the "good" bindings in a specific genre, that is, the ones I would reccommend. Note that m=metal, p=plastic. I believe the following bindings are also all still indemnified. If you're looking for older bindings, try to find one with metal housings as UV light tends to deteriorate the plastics with time. Avoid 8XX series bindings (and below) for this reason, if possible.
Beware of early demos as only the heel moves (long track) and the toe design lacks the "Spheric" or "Multicontrol" mechanism. Older demos also tended to have a lot of "play" as they got older (due in part to the "quick change" length adjustment).
Here you go from oldest to newest. I'll have to guess on the years (they should be OK +- about 1 season).
(1990-1993?)
957 Racing/957E(m)/957 Composite(p) - 957E has dual screw toe wing adjustment and worm screw for heel length. (57 Composite and below have the single screw toe wings and a tab in the heel for adjusting length. Racing and Equipe are both all metal. "Square" style removable brakes.
(1994-1995?)
977 Racing/977E(m)/977 Composite(p) - Essentially the same design as the -57 series with longer toe wings and a different heel housing shape. All non-race toes are now plastic; race and Equipe heel still metal. Equipe is a hybrid design with plastic toe, metal heel. "Driver" rubber shims under the toe and heel.
(1995-1998?)
997 Race(11-17)/997E/DR9E(m)/997/DR9(p) - New housing, same as current 916. DR9 bindings can be converted if old -97 series Driver parts can be found. All bindings except for race and Equipe have a more compact heel (smaller heel lever) with the "tab" adjustment (race binding retains the worm screw). Equipe and race heels still all metal. Various risers. Last housing redesign for race (all metal) bindings.
(1999-2001?)
900S (11-17,9-16,14-20)(m)/900Es/900s(p) - All heels except race now have 4 screws instead of 5. Different AFD design, same function. Single-screw toe wing adjustment in all bindings except race models. Avoid ProPulse bindings. Slightly more compact than earlier models. Various plates and risers under same basic binding. All brakes except racing models now "round" baseplate style. Retail and race bindings have completely different housings. Equipe heels now plastic with the "tab" length adjustment. "Multicontrol" mechanism tweaked slightly and renamed "Spheric".
(2002-present?)
920/916(m)/914/912Ti(p) - Retail bindings are completely plastic and are slightly lighter overall. New base plate design (toe and heel) with same hole pattern. Ti heel track reduces the weight of the 912 a bit. Beware of early 912s as some had poor heel tracks which failed prematurely. 920/916 unchanged from previous series and remain a throwback to all-metal performance bindings.
Whats the difference between equipe and non-equipe 997s?
From Mechmaster:
Primary difference between Equipe and non-equipe bindings was the heel. In the Equipe, the housing is aluminum and the foreward pressure set using a worm screw. The idea here is that since the screw is infinitely adjustable, the exact foreward pressure is more easily set. The non-Equipe heel uses the more common tab to adjust foreward pressure and has a plastic housing. Equipe heel is 5-hole pattern; non-equipe is the same, but without the center hole (4-hole)./912
Both toes are largely the same; both have plastic housings. To get a metal toe, you need to move to a team binding. The primary difference is the toe wing adjustment. On Equipe bindings, each wing can be adjusted independantly of the other, the idea again to get the best possible boot-binding connection. On non-Equipe toes, the wings adjust simultaneously using a single screw.
As has been said, the second bindings you referred to are the Driver suspension. It can be converted to a "normal" 997-series IF the correct driver plate can be found (the DR9 plate replaced the driver on this model). The last binding features the hard-to-find "flat" riser plates. These are a real chore to mount to fat skis as the hole pattern is different than standard Salomon and the jig is too narrow to fit many skis. This would likely involve a freehand mount in this case.
997 EXP?
EXP = plastic, DIN 4-12.
Single (simultaneous) toe wing adjustment, platic toe/heel.
You can remove the DR9 suspension plate and convert the binding to a "standard" 997 IF:
1. You can locate the Driver shim from a 977/877/777 or 997/897/797. This may involve some ski swap looking. Do not use this binding without the DR9 or the Driver shim as the "Multicontrol" mechanism will malfunction. The part swap itself is very easy and takes about 5 minutes.
In theory, you could also swap the entire base assembly over to a flat mount toe, but this would involve disassembling the entire binding. At this point, you're better just using the DR9 plate.
I found some old binders, but they were stored at a HIGH DIN:
Quoted from Pechelman:
if a spring is designed properly and selected properly for its usage (force and displacement environments) it will never creep, sag, lose its spring rate, whatever.
Theres a lot of ifs there, but generally, even a moron can choose the right spring.
to expand on the fatigue issue, its not necessairally a complete load and unload, but any cyclic force, even if it remains within the compressive regime the whole time. (ie a linear compression spring)
if youve got metal bindings, i probably wouldnt bother
plastic ones from like 10 years ago, sure, why not, but theyre under a lot more stress during skiing and a release.
really its the plastic housing youre saving from extra stress by turning them down. Especially true if you happen to keep your skis\bindings out in the shed during summer heat
also theres a big difference from turning a binding down from a DIN or 7 or 8 than from 12-13.
really, if it gives you peace of mind, then that counts for a lot
springs can take a little heat and still be fine. Think about your valve springs in your engine head. They probably spend 99% of their life at 150-170F and never care or need replacing.
difference between a 997 and a 914/912 brake housing: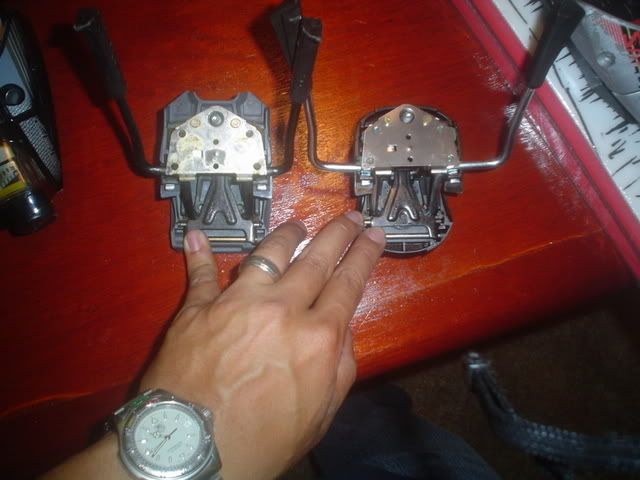 photo: superstar punani
The wide brakes have a plastic "wall" along the rear which prevents it from fitting snugly onto the 997 Equipe heel. (They do, however, fit on the shitty non-Equipe 997 version with plastic heel/12DIN).
Is there a way to pull the binders apart, take the metal brake arms from the fat version, and stick that into the original 997 brake housing?
picture tutorial from wyldstyle:
fyi: these are brakes for 916s, noticebly different housing to 912/914
I want to know if i can take a pair of s810/s912/s914 wide brakes and put the wider legs into the s916 brake as the s916 brake seems to have a different housing to the 912/4's. Is this possible ?
from the above position, pull the arm up while holding the opposite one, it should come out from between the housing and the metal base plate ......
... then pull the arm towards the other one while wiggling it up and down ....
... and it should now pop out nice and easily .....
...reverse the process to refit / swap for wider one....