Member: j_hamborg
-

offline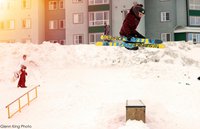 Karma Rating
30 Day Karma History
My Friends
Member
Currently
Last Login
More than 30 days ago
Status
Chillin
Member Since
October 18th 2008
Member Number
114046
Contributions
560 Posts
Region
CANADA, British Columbia, Prince George
Profile Views
8072
(Since Jan 23 2009!!)
Current Location
Prince George, B.C. Canada
Home Mountain
Hart Highlands Ski Area + Powder King!
Best Tricks
Double Twister Spreads
Favorite Tricks
Heavy Head
Outerwear Look
First Drop.
Skis
Surface.
Crew
You ski? Lets Rip
Sponsors
Surface Skis, NR Sport and Ski, Empire Attire
Comments
Add me on Facebook- Jason Hamborg Twitter- @innowayfamous
Skiing
Skiing is being pushed in so many directions right now, and I respect all aspects. The thing that gets me most excited about skiing is the fact that there is no end in sight with where it can go!
Photography
Pics or it didn't happen...
Videography
Filming is insane frustrating but so totally worth it!