Warren Miller?s Wintervention in Boulder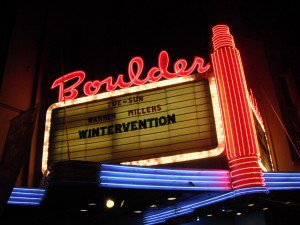 Went to the showing of this year's Warren Miller film "Wintervention" in Boulder last night, and once again it didn't disappoint. Just as always, I now want to quit my job and move up into some remote mountains to be a heli guide. Without fail, the Warren Miller film has that affect on me every year, and I'm assuming about 90% of the audience as well. If nothing else, it absolutely makes you want to drive up the closest resort and get some turns in.
Colorado was featured pretty heavily in this year's film. There were scenes in Vail, Beaver Creek, Keystone and Telluride. And local athletes Lindsey Vonn, Chris Davenport, JJ Thomas and of course Chris Anthony all were featured as well. While the rest of the movie makes you wish you could travel the world skiing like the pros, the segments on Colorado make you so proud and happy that you live in such an amazing state.
My favorite part of this year's film was the soundtrack. Kudos to Travis Schneider who selected the tunes for the film. Instead of going with big name bands this year, the soundtrack is a bit more indie and obscure featuring the likes of Sleigh Bells (not the sound of actual sleigh bells, but a badass group that happens to have created my favorite song right now, "Crown on the Ground"), Gogol Bordelo, Grinderman and a new album by Devo. I didn't even know Devo had a new album but I'm going to go check it out as soon as I finish writing this.
Wintervention plays at the Boulder Theater through Sunday. If you haven't picked up a ticket yet, do so now, or check out the Wintervention web site to see when it's playing near you.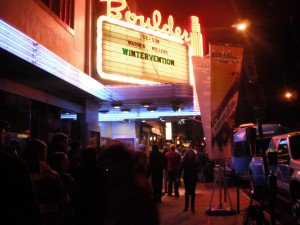 The line wasn't too bad at the Thursday night show.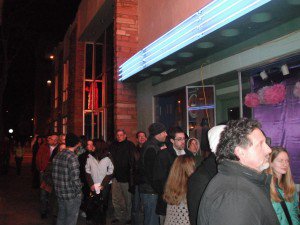 Still, a good number of people showed up.
Chris Anthony doing his thing.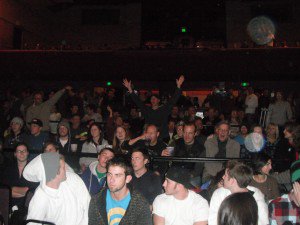 This dude won something. I didn't.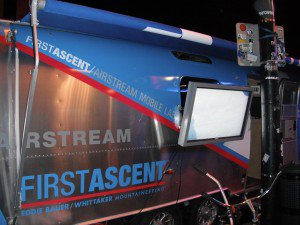 The First Ascent Airstream featured in Wintervention.
Sweet ski rack in the Airstream.