WEST COAST SESSION UPDATE!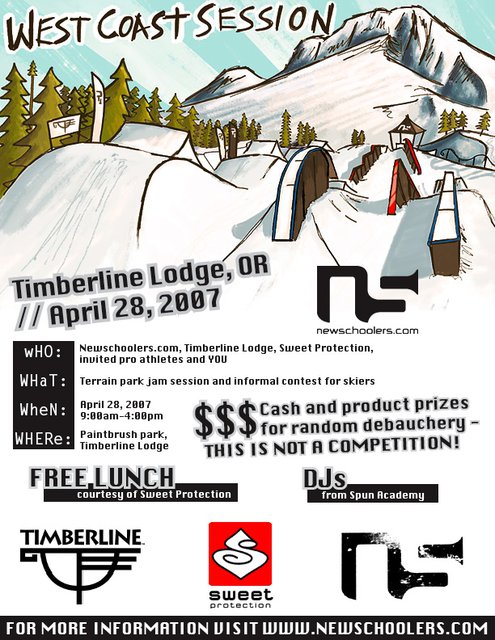 Newschoolers.com's first major member gathering in the Pacific Northwest, the West Coast Session at Timberline Lodge, Oregon, is right around the corner! The riders list for our private three-day shoot this week has been finalized, and the Timberline park is in top condition for what's looking to be one hell of a park session!If you haven't heard already, the West Coast Session goes down this Saturday, April 28 at Timberline Lodge. Sweet Protection has helped us out immensely with this event, arranging for a DJ crew from Portland's Spun Academy and providing a free lunch on the hill for everybody! Windell's Camp is also hooking it up with accommodations for all of the invited riders! The park is money, the weather is looking good, and all of the pros and up-and-comers from the shoot will be riding the park with you—so there's basically no reason why you shouldn't find yourself here on Saturday.However, if you do need more reasons, how about this: $500 in cash from Newschoolers.com to be given out over the day, along with lots of schwag from Sweet Protection and Sublux Clothing.The somewhat complete riders list for the private shoot is as follows, we've done our best to include everyone who wanted to come out and ride with us. If you want to ski with some of these guys, come up and join the session!Frank RaymondBlake Nyman
Mike Wilson
Steve Stepp
Alex MartiniSammy Carlson
Tom Wallisch
Matt WalkerTyler BarnesTosh PetersAdam BattersbyGiray DadaliGarrett RussellSean LoganKatie WilliamsonWitt FosterTyler MuntzMax HillReed LewisCharley AgerCharles GrantJonas MarcinkoDo you want to come to the West Coast Session, but just don't have the cash to make the trip? We decided to make it a bit easier on you... all you need to do is:- Print out the flyer at the top of this article- Post it up in your school, your mountain or your local shop (make sure to ask permission first)- Take a picture of it- Email the picture to westcoastsession@newschoolers.com, along with your nameThen just show up on Saturday, and we'll give you $10 and a pile of NS stickers for helping us to promote the event!Visit the West Coast Session event forum to RSVP, look for rides or talk about the event!