Tuckered Out Films "Retrospect" available now!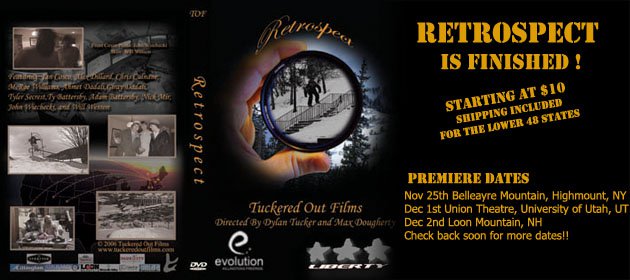 "Retrospect" is Available now at
http://www.tuckeredoutfilms.com.For
each copy you purchase before December 15th, you will be entered in a raffle for the following: 1st - 178 Line Invaders2nd - Armada Poles + Tuckered Out Films t-shirt3rd - Armada Poles4th - Liberty t-shirt + hat5th - Tuckered Out Films t-shirtThe first girls name to come out after the first 5 will recieve a green Sublux hoodie! "Retrospect" features 42 minutes of skiing by the best Am's in the business. Shot on location at Mammoth, Vail, Park City, Okemo, Killington, Loon, Waterville Valley, Stratton, Hunter, Belleayre, Toggenburg, and many others. Check out our site for upcoming premiere dates, and pictures from our latest adventures.
http://www.tuckeredoutfilms.com