Trevor McDonald- How Could You NOT Love Bromley?
Rate This Persons Entry Here
Home Mountain: Bromley Mountain, VT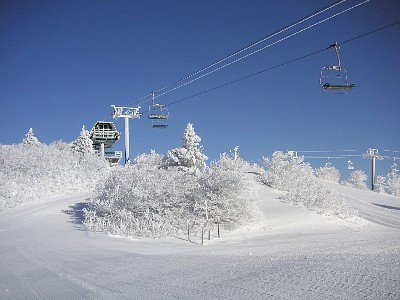 It is difficult to describe Bromley Mountain in words without selling it short. Bromley is the friendliest, most down-to-earth place to be during the winter months, especially once the snow hits. It is a mountain where one can never get bored of bombing Twister-Twister over and over again, where kids laugh while trying to throw bras onto the undie-tree, where the one and only Pigdog can occasionally be spotted rocking tele skis, and where it is easy to get a sun burn in January while tearing apart excellent corduroy on Vermont?s Sun Mountain. A smile appears on my face each time I walk towards my favorite mountain. The relaxed nature, that has been part of the culture of Bromley ever since its founding, keeps bringing me back day after day. It is no surprise that families love this incredibly friendly atmosphere. It is difficult to escape from the corporate feel that has plagued the skiing world, but all the stress and troubles of the world disappear as soon as Big Brom comes into view. A welcome home to tele skiers, Bromley?s homely feel is apparent even before you catch a glimpse of the smiling moose head in the rustic base lodge. I have never had a bad experience at this mountain, even despite some East Coast conditions that can scare off even the most dedicated shredder. I always sprint out of class and to my car after school during the week so that I can get as many runs down Bromley as possible before the lifts turn off on me. I do not know how many times I have been the only one riding the Sun Chair at 3:59pm, but I know that it is enough times so that the employees expect my daily presence on the slope. Even if the traffic is slow or I need to gas up causing me to delay my arrival on the slopes, one run down Bromley?s East Slope is all it takes for me to feel that I have had a fulfilling day. The serenity of slowing being pulled up the hill on a Wednesday afternoon in December, all alone on the mountain, and gazing into the valley as the sun begins to set, is something that will always be a part of me. For even if Mother Nature has only provided us with ice or pouring rain, these moments are what continue to make me speed up the mountain and race to put on my boots each afternoon. The advances in the park and to the infamous ?Bromley Booter? that the staff makes each year only heighten my excitement for the winter seasons during these long autumn months. Even in the summer I can?t drag myself away from this mountain, for if I am not racing down the Alpine Slide at Bromley?s Adventure Park, I am hiking in the beautiful woods and searching for another cliff drop or another pow chute to hit up when the lifts are running once again.


Rating: 0.0/10 (0 votes cast)

Tweet