This Ain't Your Grandpa's Barn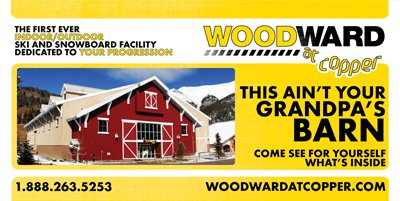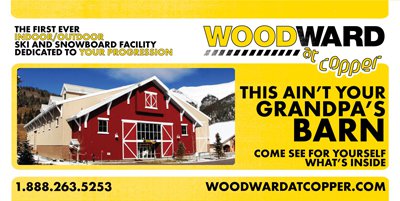 The Barn, at Woodward at Copper, is a 19,000sq.ft indoor ski/snowboard facility dedicated to your progression. Want to get ready for the park/pipe season ahead? Whether you are trying doubled flips or 180s, we have the staff and equipment to you help you learn in a safe and controlled environment!
We run programs daily at 2,4 or 6pm. On weekends, we offer day camp...9am-4pm with coaching the whole time teaching you what you want to learn!
Ladies Night: Every Thursday night until Nov. 20th we are offering all Ladies/Girls 50% off any 6pm sessions. (One Hit Wonder, Drop-in or Skate/BMX)
http://www.woodwardatcopper.com
For questions: 970-968-3400 or woodward@coppercolorado.com