The SNOW The Game Q&A
For the past two years, the three-man team of Poppermost Productions have been busy building SNOW, the first free-to-play, open-world winter sports game. Since announcing the game in late 2011, Poppermost have worked diligently to refine, polish and improve every aspect of the game to meet the ever-growing demand for an authentic and realistic experience. Along the way, Poppermost has struck deals with some of the biggest athletes and brands in the industry to help guide the game and provide exclusive content for the game's users. SNOW is now being prepared for a release on Steam Early Access in the coming month.
http://www.youtube.com/watch?v=27KChrK7m-s
---
Are you the next Jiblife? - Steve.Mahanahan
Unfortunately not - we released the game yesterday!
Will there be custom content like in shredsauce? – bfulmer
Eventually, yes. The tools that Shredsauce provided for creating custom levels is great but we want to do it in a more user-friendly way and present it in a space where levels can be shared easily and upvoted if they're good. This will take time, but is one of the bigger features we see as a way to retain users.
Don you have a release date in mind or is it too soon to tell? – wilkinsonvt
Yesterday!
Will there be baggier clothes in the end product? – Casabong
We would like to provide users with different styles to dress their character. Baggy clothing is extremely demanding on the artist as every fold has to be modeled separately. We cannot simply just add a "baggy" feature that makes every item tighter or baggier, so we will have to pick which items should be more or less baggy before making them.
Lots of people were convinced this game would never come out and would be just another JibLife. Was there a point in development where you guys felt the same way? – Cultrara
Not at all. Sure, there were ups and downs as with any game's development, but I always knew I would find a way to get the game out at the end of the day.
A lot of people are wondering where on the ski the bindings will be. Are you giving an option for people to choose where they want to go on the ski (and if so, does this affect how the ski responds?) Or does it depend on the ski as to how central you will be on the ski - -SnowSnoli-
We noticed the bindings were in the wrong position the same day the screenshots were released. Honestly, we didn't think that many people would notice! In any case, this has been fixed in the latest build. Right now we have no plans for letting players pick their binding position as it affects some animations, and we don't want to have to compensate for that.
Recommended computer specs? Will something that's not designed for gaming melt when I play on full graphics, or is it not that hard on your system? – DrZoidberg
Right now we have only done a few optimizations. It's an ongoing process, and we want to work with our users to figure out the best setup. Our goal is to have SNOW run on the most basic gaming PCs, and we think we can achieve that without sacrificing all of our visuals.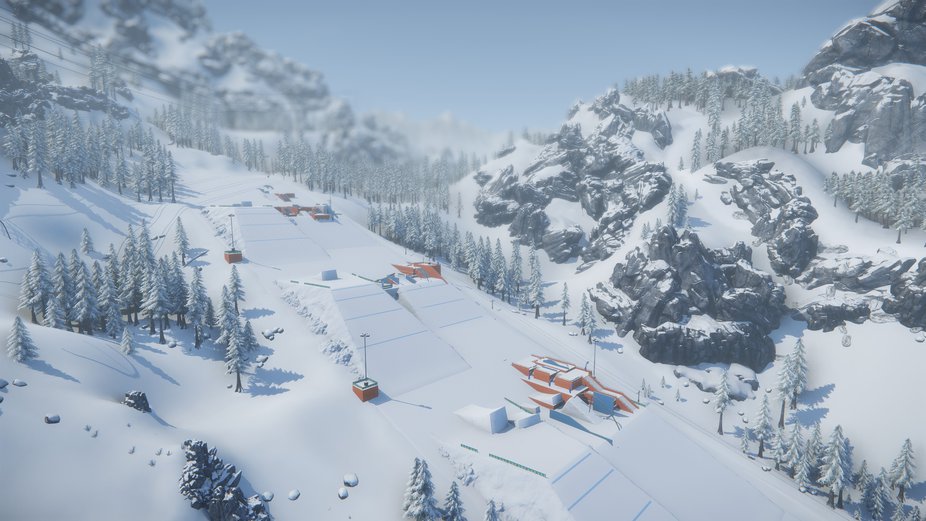 Once it's out is it done, or will it be like shredsauce and keep getting upgraded? – J-Dunn
The Early Access is considered (by us) to be in a Pre-Alpha state, so there is still tonnes left to add. As long as we have players playing, we will keep adding content and features to the game.
What about novelty characters, like a skiing yeti or coat rack? - Static
Totally. There are the users that want to treat this as a simulation, but there will be users that want to have some fun - we will develop content for both groups.
Will it be available on xbox and playstation? - sng98
Not the current generation. Next-gen is something we are looking into at the moment.
Would there ever be an online multiplayer mode? So you could ski with your friends and do laps together. - .WP.
Yup. Multiplayer is something we want to add asap as it's a perfect fit for a game like this. We are considering making this the next big feature-update.
What do the corks looks like? - georgen12
Like regular spins, but you know, off axis! We need to work on our in-air rotation mechanics so you can use momentum more to your advantage. What we have now works and is all physics based, but in no way perfect. We want to improve this with the help from the community.
Will you be able to ski urbans? Will there be a career mode, kind of like in Skate where you start out entering small comps and then become bigger and choose your sponsors, etc.? Have you thought of getting some kind of competitive mode for the game? - CHjohn
Urbans, eventually. We tried to design our terrain park to be urban-feeling but will eventually actually make urban areas.
No career mode. I always hated them in games as they tried to force you down a path. Instead we let you use your imagination and tell your own story.
Yes, SNOW will have lots of competitive modes, both online with friends and solo with leaderboards.
When you hit a jump or a cliff will the character naturally tilt forward in the air? I ask this because landing at the same takeoff angle would put you insanely backseat and look unrealistic to most. Can you change/ set your din? Will there be some form of butter? I ask because it does add an extra element to the game. I loved doing butter 270's on in ssx and would like to see the same/ better out of this game. - Poikens
Right now the player has to compensate for this themselves. We have some ideas of how to make this happen more automatically or at least assist the player.
Butters are a feature we will add in the future, just need the time to figure out how they fit in the controls.
How was the decision made to have it be free to play? - Yergz.
Easy decision. This type of sport fits the free-to-play model perfectly.
If there are featured riders, will the style of the rider in the game match their style in real life? - Strange.Journey.
Our partners (Wallisch, Tanner, Russ) are not featured in the game but are there to provide us with feedback and help us build new content.
Why don't the characters know how to use their poles? - hemlockjibber8
Harder to make it work than you think.
Is that what the skiers are going to look like when the game is release? - Isaac.D
Yes, but we are always improving the game. It's an iterative process.
Will there be buttering? - TOAST.
Yes, see question above.
Will we be able to customize skin tone like we are in EA Skate? Will there be hesher attire such as tight pants and itty bitty hoodies? - Joshua.
Skin tone will be added later when we create a proper character editor. Baggy/tighter gear I mentioned further up the page.
The game seems to mainly focus around the all-mountain aspect of skiing. Will there be park featured in the game as well? - BBurt
Yes, we already have a park and have shown it off.
Will there be sponsor-driven content that doesn't cost real money? Will there be ways to get money (limited of course) to buy sponsor-logoed clothes and such without paying real money, e.g. through comps, achievements and stuff like that? - Tree60
Yes. There will be ways to unlock gear and events for free by playing the game.
Will there be a scoring system? If there is one implemented, will there be a high score leaderboard? - Uah
Yes, there is a work-in-progress scoring system that is connected to global leaderboards. You can see the top 10 scores on our website (snowthegame.com/leaderboard/)
When will we be able to play this on a console: xbox, ps3, etc.? - FerrisBueller
Answered this above.
Will there be a park? Are you looking to eventually reproduce a real life park e.g. Breck, Mammoth or Keystone? - DeewCrew
No plans currently to reproduce real parks. Games feel different than real life, even if you're using real physics. Breck wouldn't be as fun in SNOW as you'd imagine. It's better we design parks that are the best they can be. If there are cool features that you want to see from other parks, we can definitely use them as inspiration.
How does it compare to Freakout? - AlexSupertramp
Freakout is like SSX. SNOW is like Skate.
Will there be destinations around the world such as Alaska, Japan, etc.? - SKIER_DOLPHIN
We hope to have different mountains feel like different areas in the world. This is easier said than done and something that will require a lot of planning and art direction.
Why does the player appear to be "stuck" to the snow? There are a couple of times in the gameplay video where the slope of the terrain dropsand instead of the skier catching air as he would in real life, he immediately drops as if bound to the snow. Any chance of the physics being improved for the first release? - iLLbiLLy
This has been fixed already. Not perfect, but you're no longer attached to the ground.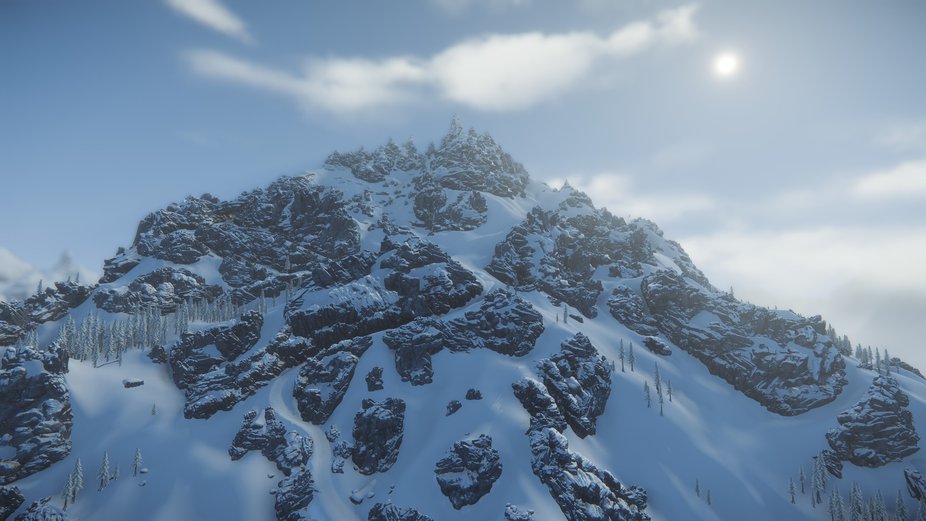 Will you be able to modify grab controls to how it is in Youriding and Shredsauce? Arrow combinations sound weird. - FlufyDuky
Not at first, but we will add customized controls. We think arrows work better than what Youriding and Shredsauce does but understand that users are now familiar with those controls, so we will make sure they can change them.
Will there be an online part of the game where you can cruise around and challenge random players for a game of SKATE or something? - jibbpeter
Sort of.
Will there be a Mac version? - Skrews
Not going to answer this for the 1000th time, sorry.
Will we be able to tweak the code and make custom outerwear/skis/baggy clothes/smoother corks/custom levels etc.? Will aspects of the game be open source? - 4-Front
Right now we have left all of the development tools (variables and debug) in the game so that you guys can play with them and see if you come up with something that feels/looks better than what we implemented originally. Visual stuff is harder to customize but if there are some 3D artists out there, and we'd be happy to support your custom creations.
Will I be able to take off my skis in the air while doing an 1820? - Peter.
Hell no.
What kind of game modes will there be? - Alex_G
Right now, just Free Roam.
Can you break your ankles on Chad's? - ssfalk4141
First you have to find it on the mountain :)
Can I take nude laps? - 90053
That's something we have actually discussed internally.
Will you be able to hook up a wired controller? - skipajarito
Yes.
Can my character have face tats? Also there should be a surfing level! - Willard
No plans for that. Your face is usually covered by goggles, mask etc so you wouldn't see them when riding around.
You say "we saw alot of skiers playing skate as if they were skiing and doing a lot of skiing based tricks so we thought we could do the same thing but actually bring it to the mountain." (This is what every skier wants in a video game!) but then you say "you can only go up and down the same park a few times before its kinda the same thing." This blows my mind that a team this devoted to creating a game with so many influential sponsors doesn't realize that the thing that makes Skate the best game, even for skiers, is its technical and realistic physics. A park would not get boring if you could, like in skate, get into blunts, surface swaps, 5050s, 1 footers, pretzles, nollies, ollies, wobbles, come off early, ride realistic urban features, and actually look normal and not forced like shredsauce might while doing it. So my question is is this something that will be included in the game that we are missing or will it be more off piste riding like amped, ssx, and other games that everyones been playing since 2000? You say "off piste is more interesting because it allows the player to show more style." Im not going to argue that style isn't equally as important in off piste riding, but that statement ignorantly ignores a large part of freestyle skiing and is an opinion stated as a fact. - Charles.
This is a great question. What I meant was that we believe we can take what makes a park fun and challenging and apply it to an entire mountain. Skate has taken inspiration from the skate parks and applied it to entire cities so that the terrain becomes a playground that look like a real city. This is what we plan to do - take the elements of a terrain park (jumps, rails, gaps etc) and apply it to natural terrain so that you can ride around a massive environment that you know is built for this type of gameplay. Then, we apply (or will apply) a deep layer of nuance-based controls on top of it so that players can really get into the technicality that makes these sports so amazing.
How much did the release of Shredsauce early in your development demoralize you? - will_powder
It didn't at all. We saw Shredsauce as a sign that there is a clear demand for a game like ours. Shredsauce is amazing and what Malcolm pulled off is incredible, but we are a team of experienced developers and are building a much bigger and deeper game. Competition is a great thing to have.
Will all the skis be traditional mount, or will we be able to pick between center and traditional mount? - D.K.
Already answered this above.
CAN WE DO SCREAMIN' SEAMANS?- appa
Not yet, but it's something I personally want to add. Just hard to get good reference material for our animator.
Will there be a chance to edit/make our own mountain/ features? - joelski
We're looking into this. We definitely want to provide the tools and support for user generated content, we just need to think it through and figure out the best way to do it.
Is that Johnny Moseley giving the demonstration, because there were a lot of 360 mute grabs… - skiierman
There is nothing wrong with a solid 360 mute - pure class I say.
Is there going to be a trick "name" display like in youriding where you do a lincoln and it say cork 720? - beaupress
Yes. We're still working on it, so it's not perfect yet, but it does display the trick you have performed. We also added a feature that adds "SW" before the tick name if you performed it from a switch position - a request that we saw on these forums.
Will this skier learn to put his hands out in front of him and pressure his outside ski a little? - shredwards
Yes. Animations are all at a 1st pass quality level and will be improved over the months.
Will there be bigger clothes in the game? - Dode
I answered this above.
Will the game be better than Youriding Freeski 2? Please say yes. - J_BISCHOF
Yes.
Which level do we get to fight SKI BOSS? - Woodsy15
In the cow level.
Since it looks like it will be primarily a big mountain skiing style game, have you approached Rob Gaffney about obtaining the rights to incorporate GNAR points in the game as your scoring system? If so, will there be pole whacking? Skiing naked? Multiplayer mode so your friends can see how rad you are? - penutbutrnjelly
Could be a cool game mode for multiplayer. If anyone knows Rob, let us know!
2 years in production, will it be current and relevant to today's standard? - TPipher
Yes.
Does this game have levels and/or achievements? - notch
It will in the future. Still working on the designs and will include the community for feedback.
Will the HUD be customizable? Like will there be the option to remove scoring/time limits from the screen for a cleaner view? Will the view be switchable between 1st and 3rd person? - maxro
You can hide the entire HUD if you want to just ride around. We have a simple 1st person mode at the moment but will improve it over time.
Will there be an option to have snowblades instead of skis? - Bastian.
Makes it very tricky with animations, but could be possible.
Will it make multiple versions with a disc and an online mode? My internet is really slow so it would be crappy to play it online but other people would probably like an online version. Would you be able to compete in different events such as Olympics, X games, Dew Tour? Would it be just freestyle or would there be racing,halfpipe, and slopestyle? - mattymagoo757
We can't help much with the slow internet connection, sorry. We do not have the licenses for recreating those events, so at the moment: no.
Will you guys have a choice to CENTER mount the skis?? Please, for Jah! - cstriker30
Read above.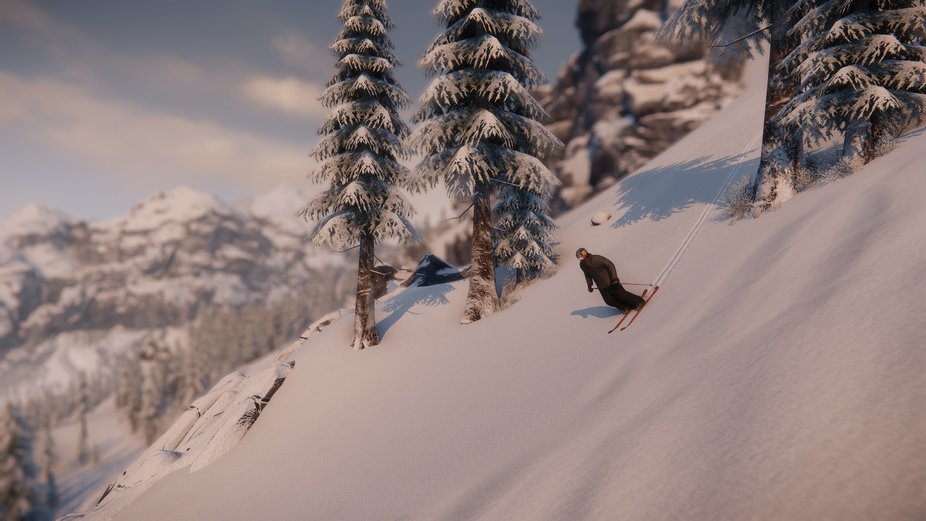 HL3 Confirmed? - Senor_Goat
Damn, I hope so.
You mention that Skate was one of the influences for this game. One of the big draws in Skate for skiers and snowboarders was the ability to variably tweak your grabs. I noticed in the video the grabs looked rather static. Grabbing is a huge, if not defining, part of freeskiing. being able to poke your grabs as well as poke them in different directions is a huge component of style in freeskiing. Are there plans to implement a Skate-like grabbing system? If not, I highly suggest that you look into it. I realize that this would require a controller to fully realize but i feel as though many users would head this direction anyway.
In addition to grabbing, Skate also does an excellent job of allowing the player to control the speed of spins and flips. In your demo video it looked like that was somewhat possible but I would love for this to be a fully realized concept.
Finally, I love what you guys are trying to achieve here and I hope that your game can provide the realism that the hardcore skiing audience craves for. - BrokenBones
Yes, our grabs system is fine for a first pass but we can definitely do better. This is both a technical and animation aspect. We have multiple spin speeds but will improve how they work with physics and drag in future iterations.
Would it be possible to control the characters skis with a thumb stick like in skate so you can do presses/butter variations, nollies, shifties and you could use it for the grab system like BrokenBones mentioned, this would open up so much freedom like in skate and not just be limited to simple pop and spin controls?
Yes, that is the plan. Some of that functionality is already available.
How realistic are you trying to make the game or are you going for more of a ssx feel to it?
also how will the rail system be in this game, will it be like shredsauce were once you hop on a rail you are locked to it or will you be able to hop of early, do presses, one foot variations. - Linked
Like Skate.
Both. It's a hard balance to find as being able to land perfectly on a rail is very hard without any type of support going on behind the scenes.
What's the next priority after Early Access goes live on stream? - muchski
Still under discussion, but we really want to get Multiplayer up and running.
Are the places just made up or are there some areas that are inspired by real life? - Beaansss
All fictional.
Is it possible for the skier to be equipped with a parachute so we can ski base jump? - Alex_G
Eventually I'd like to think so.
Saucer boy HAS to be a playable character. - Ryanvdonk
Maybe a Saucerboy mode?
How long is the estimated time until it is available on Mac? - LastChairMedia
Hard to know, it's not something we have any control over (Crytek are the developers of our game engine).
Will there be a strong park presence in this game with features such as customizable clothing, edge control on rails, or off axis spins? Please enlighten me. - Ribss.
Yes. If you have gotten to this point in the Q&A without already having your questions answered, you should read through it again :)
Can we clip off our skis to hike a rail/boot pack, or will that be added in SNOW 2? - Joshua.
Lots of unnecessary work for a feature that could be handled with a simple teleportation. This is a game, after all.
Will you ever consider making this a non-free game? Everyone here (i think) wouldn't mind paying a few dollars for the first sick ski game and it would make your progress towards perfection much faster. - Putissiman
Trust me, free-to-play is a much better deal for you.
I watched your gameplay video and appreciate how realistically you are trying to incorporate speed. The turn radius for the gameplay seems far too wide though, skiers can turn on a dime to slow themselves down. There is nothing worse than unrealistically flying over an entire, rail, jump or cliff. Are you going to slow down the game speed? - PeteP
This is something we want our users to help us tweak. All the variables for turning and speed are available in Early Access, so we hope we can find a good balance together with the community.
What are the physics like in the game? Will the tricks actually look like real tricks? - Jerome.The.Lama
Physics are pretty much 1:1 with real life. The issue is the psychological difference between riding in a game versus in reality.
Will some gear be free, or will all of it have to be paid for? I don't like that about Youriding, there should be some free gear as opposed to having to pay for anything. Also any idea of a price range cause Youriding's seem way overpriced. - Cleapster
You don't alway have to pay for everything. If you play the game you will naturally unlock things for free.
Why does the avatar dude not use his poles! - nfsox
Read up.
Will there be session markers like in Skate? - D.K.
Yes, eventually.
Can I be Ian Compton and get stuck in a tree? - skisocks
You can very easily slam into a tree. In fact, you probably will many times at first.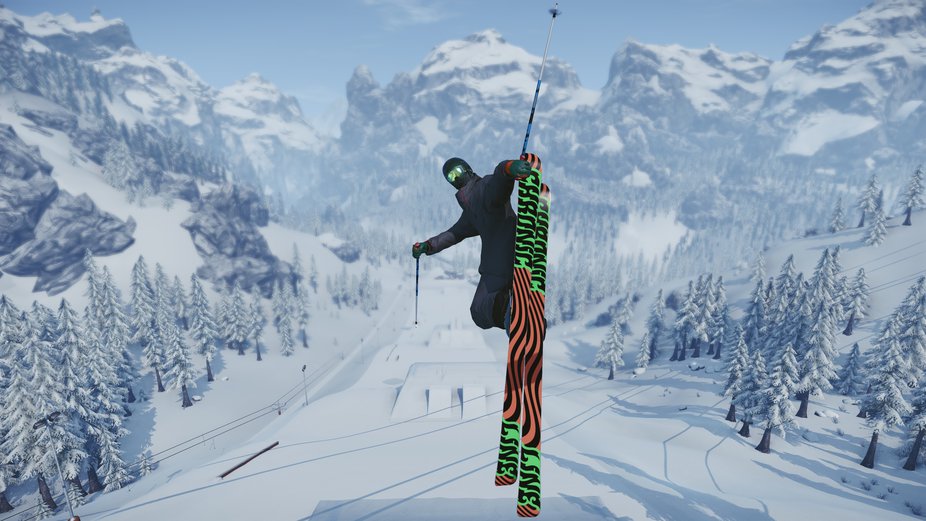 You say you take a lot of influence from SKATE the game, honestly I think it looks a lot like SSX. Which is pretty much arcade. The way we want to play the game it needs to look real like SKATE or AMPED 2 (AMPED 3= ARCADE=BAD). One problem I see is the rotations, there seems to be absolutely no flow between rotations (ex: when you do a 720 it's like 360 +360). Also it seems you can stop your rotation in mid air, where as in skate once your rotation is set, you might be able to slow it down but stopping is pretty much impossible. Do you intend to change that? Also while going straight the skier looks like a tourist, he needs to have a balanced stance, not be straight like a crowbar. Do you also intend to change that? - d-rok
Please keep in mind that Skate was developed by a team of >40 and many millions of dollars. We are 3 working with little-to-no pay. Things take time to get right. Read up for talk about improving rotations and animations.
Will there be new resorts added periodically as updates when this game comes out? - CKmediahouse
Our mountains are huge, so they take a long time to develop. We think Sialia (our first mountain) will contain plenty of content to keep you busy until we have a new mountain to share.
How long did it take you guys to realize you fucked up the rail and grinding mechanics? - yamta
Since when do we call it grinding - I'm pretty sure that's what they do in skatboarding.
Will you be consistently updating the game to get out bugs or glitches or will the end product be the end product? - ABalls
Constantly updating.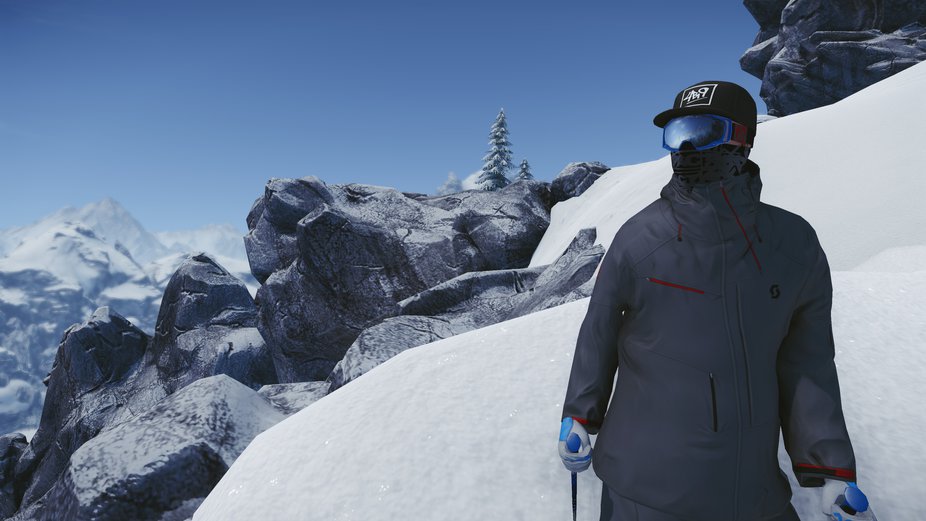 Will there be some sort of story mode, i.e. skate, eventually? going through, doing comps, earning money and sponsors? That would be fun, obviously not an initial thing, but eventually.
Will it be possible to create custom clothing? How will lower end computers handle SNOW?
Does the game render the entire mountain, or is there some type of fog limiting view distance, thus making it less CPU intensive? Will there be different graphic settings? - Tree60
All of these questions have been answered above.
Can you ski in deep, deep pow? None of that 4 inch stuff, I'm talking 3-5 feet. - Twinipz
Really really really hard to do in a game.
What are the minimum system requirements? - AlexSupertramp
Check them out on our Steam Page. http://store.steampowered.com/app/244930/