The B&E Inventational Q&A
http://www.newschoolers.com/watch/672785.0/B-E-Inventational---venue-introduction
Phil Casabon aka B-Dog and Henrik Harlaut aka E-Dollo together are B&E. B&E are the undisputed leaders in style in the freeski movement today. They felt that it was time to make a slopestyle event that focused as much on style as 'degree of difficulty'. With the sport headed in a new direction with the Olympics in this world of freestyle, it is the perfect time for this kind of event.
The B&E Invitational will invite 20 of the best riders from around the world to showcase their individual talents in a jam format on April 20, 2014 Arcs 1800 (France). The goal is to offer a unique slopestyle venue mixing all the "slide" influences that make freeskiing where it's at nowadays as Skateboarding and surfing
Not only the shape will be unique, the format as well. The riders will be able to judge themselves after a "Jam Session".
Riders:
1. Phil Casaon Canada
2. Henrik Harlaut Sweden
3. Paul Bergeron Canada
4. Candide Thovex France
5. Dave Crichton Canada
6. Adam Delorme USA
7. Jossi Wells New Zealand
8. Parker White USA
9. Corey Vanular Canada
10. Pako Benguerel Spain
11. Ahmet Dadali USA
12. JF Houle Canada
13. Mickael Deschenaux Switzerland
14. Tanner Rainville USA
15. Oscar Harlaut Sweden
16. Leo Taillefer France
17. Chris Logan USA
18. Chales Gaginer Canada
19. Liam Downey USA
20. Romain Grojean France
Who got a say regarding what riders would be invited? -Link.
B-Dog (Phil Casabon): Henrik and I mainly.
E-Dollo (Henrik Harlaut): Me and Phil, and we really tried to get as many of our biggest influences from when we grew up, people that you don't see in contest anymore. We sure wish we had spot for about 40 riders because we definitely think there are A LOT more ill riders out there that we wasn't able to invite.
When inviting the guys you did, what was the inspiration or reason for bringing them to the event? Styles or friends or certain features that appeal to certain guys etc? -forest.baker.52
B: A lot of those people had a big influence upon our career and still have, others we thought would be ill to see skiing this type of course.
E: Style, inspiration, friendship.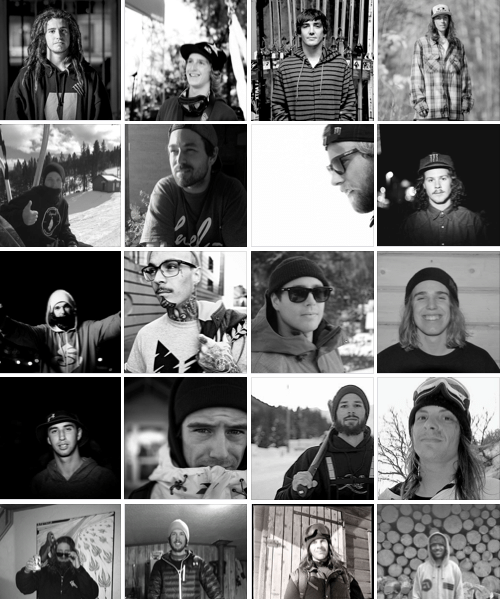 Where did the inspiration for the idea of a half pipe/bowl lined with rails come from? -CashmereCat
B: An event in China a couple years back that Eric Iberg pointed out.
E: Skateboarding, we have for the past four years been building our own lil skate bowls and stuff inspired from skateboarding and when we got the opportunity to have our own B&E event then it was not a second wasted to think of anything else but a halfpipe/bowl/rail garden.
Are you hoping that the competition will be vastly different from others? If so, in what ways would you like it to be different? -*Parks*
B: Yes, by not being comparable to any other competition and just by the people that are skiing in it.
E: Yes, it definitely will be very different from any other event I've ever been to, first off because of the riders. There has never been a event in skiing with the field so filled with this many "only film skiers" and legends of the sport together. There hasn't really ever been an event based on the ski technique where it's about who can ski through the course the nicest. We don't expect anybody to try to huck themselves outside of their ability, we just wanna see our favorite skiers have fun on a very unique and different course and do it with the purest style there is in freeskiing (to us). There sure won't be any competition head-to-head feel to it, it will only be fun, good times with the homies and try to progress and ski better and better every run.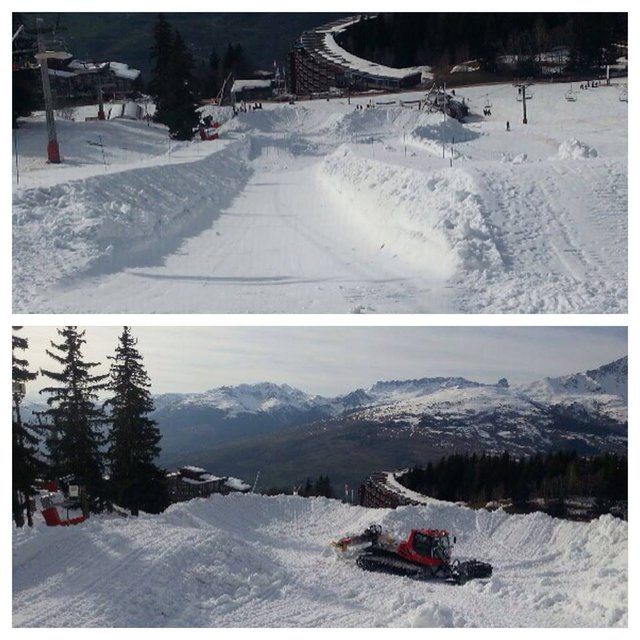 Who is judging and based on what criteria? -broto
B: There will be five awards
1. Monster 'Best Overall' award - voted on by the skiers.
2. Oakley 'Best Trick' award - voted on by the skiers.
3. Orage 'Best Style' award - voted on by the skiers.
4. Nitro City 'Viewer Choice' award - online voting by the viewer *each viewer gets 3 total votes from their ip address. We did this because there are 3 awards we get to vote for, so we figured we would give you guys 3 votes as well. there will be one overall winner from all your votes.
5. GoPro 'Best GoPro' shot award - online voting for a week after the event that online views of the shots get to vote for their favorite GoPro shot. Each skier will have 1 GoPro shot uploaded for voting.
Is the course shape supposed to look like a bong from a bird's eye view? -JahLiam
B: That's just your imagination.
E: Haha, nahh it just magically turned out like that. We were just saying all the different kinds of features, bowls we would like to have in the course and it turned out looking like that.
Will athletes be drug tested? -esotericjive
B&E: Yes.
http://www.newschoolers.com/videos/watch/652998/Henrik-Harlaut-training-For-Olympics-2014
How the hell is someone gonna hit that curvy rail at the end? -Nacho_Macho_Man
B: By sliding it on skis.
E: By committing to the wildest rail ever and just think of it as a rollercoaster at Six Flags.
Can you talk to Malcolm about making this course a Shredsauce map? -nilszolland
E: That would be awesome, hopefully!
Hornbeck? JPV? Torin? LSM? I think those guys would be perfect for that course. -E-Fry
B: Hornbeck was invited but had other stuff to do and as for the other three, they are all great but unfortunately they did not make it in the 20.
E: Hornbeck was on the list but schedule got too tight so he's not able to make it. And as before, only 20 spots this year so the main focus is on the riders that we grew up watching in skiing movies and riders that influenced us the most.
Stoked to see Corey, Mik D and Candide. On the other hand, Vinnicash? -LIL_WAT
B: Again, 20 people iz very few people for the amount of talent there iz in skiing.
E: Yes its going to be amazing to have these awesome skiers there that has inspired in a million ways. Same as before, wish Vink could come but this year we don't have enough spots for all our favorite skiers.
RORY SILVA? -pat-rickdaigle
B: Yup, we wish he was in there too, but 20 people is a short list for all the bosses there are in the freeski world... so we kind of based ourselves from our early on influences as well as the skiers we love to watch today.
E: Again, there is soooooo many skiers we would LOVE to have there but for this year we are limited to 20 spots included me and Phil. Next year we really hope to get Rory out there as he is a AMAZING skier and person!
http://www.newschoolers.com/watch/698878.0/Phil-Casabon---Sustenance--2013-season-
If someone invents a really cool trick, would you rip it off for your own style? -N.L.
E: I think everybody that's there are gonna do everything trick with their own style, not sure if we gonna see that many "new tricks" doe since its gonna be more about flow and style then going for the biggest spin yet.
What do you think to the accusations that the course looks like a penis? -ShaunNDDuffy
B: People see what they wanna see.
E: I don't think of it like that, but i guess everyone has their own imaginations.
Approx how many nugs will be smoked during the events?- MIGMILI15
E: Probably none since we are all high performance sports men that will be competing in a world class ski event with all the greatest skiers in the wold.... lol