The Inspired Media Q&A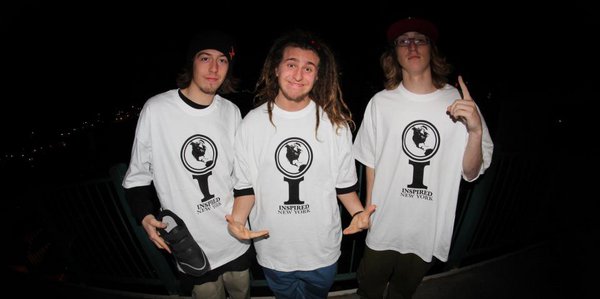 http://www.newschoolers.com/watch/643402.0/The-B-E-Show--New-York----S03-EP5---10-September-2013
Inspired Media Concepts was started on January 1st, 2010 by friends Tanner Hall and Eric Iberg. After producing the documentary film Like a Lion in 2010, Inspired TV was born.
Today Inspired TV has evolved into over 20 shows and has added surfing, kayaking, and BMX into programming. Along with feature ski films and Inspired TV, Inspired Media Concepts also works with the promotion of individuals that have goals and dreams. This brought the creation of other media outlets such as the Inspired Demo Tour and Tanner Hall Invitational.
What's up these days? A brand new international store (launching on Saturday), the next B&E movie (dropping October 26th), and then Inspired TV continues starting Tuesday September 10th with the B&E Show 'New York'... right here on Newschoolers.com!
---
Inspired Demo Tour athletes Paul Bergeron, Henrik Harlaut, and Phil Casabon
You are one of the few producers to solely release content through the NSTV / Inspired player. Why have you decided to go that route and not release them on youtube, vimeo, and/or other platforms? - Mousseau
Eric - Because you do not block music and we can control the future of the video player! A lot of people ask why we are not on youtube or vimeo. "we would get sooo many more views" I say 'cool, but how many of those extra views are consumers of skiing or its products and how many will start to follow inspired because of the edits/shows?' The answer is this... with the Inspired/NS player we have a 100% consumer ratio of people that consumer the sport in some way, shape or form. I would rather focus my efforts in giving back to the people that love the sport rather than people that might say, 'that's cool' and then never watch the sport again. It's like how everyone thinks X Games tv numbers are so awesome for their companies and products. All i know is that all my friends in Minnesota are pissed because X Games pushes their Sports Center back an hour on a work/school night. These are the big numbers of viewers and none of them will ever consume the sport of skiing. So, why waste the time.
And one more side note: why do you think the US Navy is the largest sponsor of X Games... because the average viewer has no money or job and war (a job and money) is the best product to sell during the Games, not ski products
Any details about the new B&E movie? - Dr.SteveBrule
Phil - A resume of the B&E, Paul Bergeron, Brady Perron and friends season. Music is totally original and mostly built for the movie by Riga and artist's such as Cilvaringz and Randy Valentine. Editing is totally done by the B&E and 85% of the footage is unseen. The movie is called 'Let it Flow' and will be released on Oct. 26. We will show it for free during a live online premier and then it will be for sale on iTunes right after the premier for $6.99. The proceeds from the film will be going to a charity (we are still finalizing which one) and we will donate the money in the spring.
What can you tell us about the new movie? - S.Ki
Eric - Inspired is putting out a couple movies this fall on Oct. 26th. We are releasing the B&E movie 'Let it Flow', the Tanner Hall edit 'The Lost Season' by Kyle Decker, the Inspired TV Show Movie put together by Vince RC, and the Inspired Euro Fam Movie. Make sure to check out http://www.inspiredmedia.tv on Oct. 26th for a 4 hour live broadcast of all these movies. Then 'Let it Flow' and 'The Lost Season' will be available right after the premier on itunes.
What is the single biggest problem that you see in Skiing right now, and what potentiail solution do you suggest? - Mr.Bishop
Eric - My personal opinion is that skiing is too full of followers. And these followers are becoming the leaders in our sport fast! No longer do people just want to do their own thing and be 'freestylers'. The look at a top competitor and try and be better then him/her to improve their skiing. This is not how to progress the sport. All it will do is make the future focus on comps(skiers and sponsors) and then the only thing that gets better is a extra flip or extra spin and the only winners are the skiers with the biggest 'degree of difficulty'(DD) on their scorecard. There are so many things you can do on a pair of skis that can make a difference and winning X Games or the Olympics should not be the only way a skier can make a living out of this sport! The solution for us at Inspired, is to keep doing new and different things. Because if we do not create, we will be the followers.
Phil - Copy cats. It is a must to get inspired from other people, events, etc... but, make sure you are not trying to replicate these inspirations. You are your very own and have your own flavor people could get inspired from as well. My suggestion is to reach out into other fields and activities in the world and take a little bit of everything to create your own.
When will you guys be going through the Midwest next? - .Rybak.
Eric - It is not looking like the crew will be going through the midwest next year right now.
Tanner - Prolly the next time I wanna hit some rails and walls!
Tour stops for this coming season? - Walter.White
Eric - Demo Tour for the 13/14 season has been cancelled.
Inspired Demo Tour 2013
what is planned for this winter more similar to last year or do you guys have a project in mind - SAMmyPUTnam
Phil - Better skiing, better music, better editing, keynote skier. Clever timing for release dates. More quality and quantity. More featuring with inspiring skiers. Inspired serie of events. Powder/Streets/Park filming...
Tanner- ski a lot more with Ahmet and Horns!!! Been skiing with the LaFa crew a bunch and can't wait to do more with them in the future!!! Ahmet is on a murder mission right now make sure to see his shit in the new LaFa movie "So It Begins" and i hear his shit in the new level one will blow minds! Plus 20th year anniversary movie with who i started in this game with!
European tour? - Turkelton
Eric - We are working on creating the Inspired Demo Tour through Euroland in the 14/15 season. We really want to hit as many countries as possible when we do it, so there is ALOT of organizing going into it.
Any thoughts of a Western Inspired Tour? - FigNewton
Eric - As stated earlier, right now we are working on a Euro Demo Tour for 14/15 with the crew Phil, Henrik and Paul. We have cancelled the 13/14 Demo Tour for lack of interest by sponsors(because skiing sponsors are pretty focused on the Olympics this year). But we will be back with the Euro Demo Tour 14/15 and working on a Asia Demo Tour for 15/16! We feel the West already gets a lot love through major comps and filming and we want to touch areas with this tour that do not normally get attention by professional skiers.
Any plans for some sweet ski trips with a bunch of the athletes? Doing an Antarctica trip would be dope as fuck if you had the funds. - VinnieF
Eric - I am pretty sure all these guys go on sweet ski trips every week. But, we are always trying to make up new trips for the future as well.
You guys should visit some of the smaller ski hills in Canada if you do another demo tour! specifically Loch Lomond in Thunder Bay, Ontario! - Jonny6k
Eric - We would love to bring the tour through eastern and midwestern Canada! We will do it one day! That is for sure... just don't know when right now.
Eric Iberg and Tanner Hall
Why and who chose the name Inspired Media? - STNW
Eric - The name Inspired Media comes from the name Inspired Music. When we first started the company we did not have a name for the media element. We were creating Inspired Music as a legit company at that time and it only made sense to call our company Inspired Media to help with co-marketing of all our projects sense Music and Media worked so close together. And Inspired Music was created by artist Cali P and dj/producer Phantom.
What separates Inspired from all the other film companies out there in your opinion? - Huck_Norris
Phil - Inspired spreads and gives opportunities to a very wide area of talent geographically. It involves anyone, worldwide.
Tanner - You don't need a red camera or a million dollar budget and like Phil says it involves anyone worldwide! Its a great platform for opportunity!
What is the story behind the heavily emphasized Jamaican/Rastafarian influence? Is it just about aesthetics, or do you guys identify with the philosophy associated with the culture and religion? - ckk
Eric - Tanner and myself have always liked the Jamaican/Rasta culture. We like their views on life and how to better not only one's self, but also how to better the surroundings around one's self. We are NOT rastas. We just love the culture and the vibe and would like to share it with others.
Tanner - Like Eric said plus the music and culture is full up of style and can teach you valuable lesson in life you wont get out of any other music i feel.
What are your plans for expanding Inspired in the future?
Tanner - Keep coming out with as many banger edits as we can and keep progressing our skiing so its enjoyable for you all to watch and along with that doing more shows and events as well to keep the brand moving forward in the right direction.
Henrik gets some props at Xgames. Photo: Josh Satterfield
What is the business model behind Inspired? - Mr.Bishop
Eric - Our business model is to create and move forward. We don't always know what we are going to create, but we know whatever we do create it will make sure we move forward as individuals and as a group.
Where would you (the whole inspired crew) see themselves if inspired media was never created? - pom
Tanner - right here still skiing our faces off everyday!
Do you see skiing being able to sustain an event series such as the Nike Street League? - Mousseau
Eric - Yes. but it will take a lot of work!
In your opinion, what kind of image does the company portray? - roddy116
Eric - We hope that our company portrays people that Inspire others!
How much do you feel the subject matter of Inspired's projects will change due to Tanner's exit from organized competition? Will it stay the same or more mimic his path into the wild so to speak? - Huck_Norris
Eric - Inspired projects will not change. We will only be able to focus on creating more awesome new things because we do not have to deal with Olympics, FIS schedules, and a feature that looks the same every week(ie. halfpipe and slopestyle courses). This is no longer 'freestyle' it is slopestyle, half pipe and big air. Inspired will continue to focus on skiing of all kinds. So yes, we are headed "into the wild" as you say. It is time for the 2nd golden era of modern twin tip skiing!
Tanner- #FTO
Who inspirers Inspired Media? - Steve.Mahanahan
Eric - Everyone and everything inspires Inspired Media! People that make a difference in a positive way
Tanner- Anyone out there who provides people with inspiration to move forward in a positive way.
Henrik Harlaut
How much weed does the Inspired Crew consume during a season? - S.Ki
Tanner - Less than ya think.
As demonstrated by a number of questions in this thread, people have linked your skiing and lifestyle with marijuana. Henrik's recent successes in the XGames have exposed a larger audience to the skiing and "recreational activities" of Inspired Media. Do you feel as if these associations are contributing to a widespread stereotype involving freeskiiers and smoking dope? Would you say that Henrik's impressive accolades and his endorsement of weed are promoting marijuana use among young freeskiiers? - pjosullivan
Eric - First off, the stereotype of freeskiers smoking weed is true. A lot of skiers smoke and its been like that since the roots of freestyle. But to say the stereotype of freeskiers weed smoking because of Henrik is kinda retarded! The funny part is Henrik does not smoke weed. He has dreadlocks and wears red, gold and green(sometimes) and a lot of people in this thread have made up in their head the stereotype that he smokes because they judge his appearance. The stereotype you talk of was fully created by the consumer itself. Henrik does NOT endorse/promote weed either, so he is NOT promoting marijuana use to young freeskiers. But he does promote the idea to think and act anyway you want as an individual to make yourself happy. And i personally believe he does that in a positive way by portraying the happiness that skiing brings.
As far as Inspired goes... yes we do use weed in some of our designs and some people that are involved with Inspired smoke. But, it is a parents job to educate their youth from what is right and what is wrong as well as teaching their children what the consequences can be from doing certain things... physically to one's self and legally. The ski industry has always been a huge supporter of alcohol and i personally believe this is a downfall with the youth that view their freeskiing idols in the media. i have never met a weed smoker that beats his wife, got in a car accident, got in a fight at a bar, or just acted not like themself. This is what i think every kid should worry about, not smoking a plant.
Tanner- What else can be said that was an amazing answer from highgrade highberg!!!
How annoyed are you that half the questions in this thread are about weed and have nothing to do with Inspired, skiing or media in the least? - Huck_Norris
Eric - Not annoying at all. If that is what they want to know about, then that is what we will answer. We are all stoked at Inspired and know our goals and purpose in life. The more we can communicate that with the public, the more the 'stereotypes' will disappear over time.
Why arent there more Armada/Inspired collabs, Honestly you guys have one of the sickest logos and a really interesting background with many talented skiiers. Personally, I would like to see more of inspired media in the ski industry, fuck what people think of your athletes or brand, you guys have a following and I for one would support you. The question though was "Why arent there more Armada/Inspired Collabs?" - Powpolice
Eric - Right now we have a Armada/Inspired colab vest that is being released this fall as well as some Inspired love on Tanner's Magic J and his THALL ski. Armada does colab with us on all our movie and event projects as well! Everything happens in life slowly but surely and hopefully you will see some more colabs in the future! we will keep you updated! and thanks for being stoked on what we do!
Why is Armada the best?/ Why should I buy Armada?? - HP123
Tanner - Best team out there, best gear out there, in my mind the best style, and we cover all aspects of skiing not only with our team but our gear as well.
Hey tanner what are your thoughts on some of the kids that came out montana in the last few years? Like tim mcheseney, brock paddock, and then some more of the tsp guys? - deadsmokemedia
Tanner - Its insane!!! Love seein so much talent come out of Montana and i dont know how u didnt put Adam Delorme on that list i actually grew up with that kid in Kalispell and it amazes me to see the talent out of a state that doesnt have the best access to become the best skier you wanna be gotta be hungry if you from up there!!!
What's everyones favourite event of the year? - Mousseau
Phil - T-Hall Invitational
Which of the following do you enjoy the least: Switch ups, triples, mute grabs - FredyFerl
Tanner - All of them hahahahaa
Eric - Switch ups...they kinda like twisters with a rail below ya
How many days of the year are phil and henrik together? - .Rybak.
Henrik - About 330 days a year!
Phil - 300 days.
Directed at Phil and Henrik: Since you guys are both style freaks I was wondering if you would rather see the next generation of skiers taught to throw crazy tricks to try to progress skiing as far as it can go, or would you rather see kids being taught to throw mello clean stylish tricks?
Also I would like to thank you for going on the Inspired Demo Tour and especially stopping at small mountains like Mt. Sunapee in NH. Talking to you guys definitely made me like skiing so much more and gained so much more respect in you guys. - crobinson9
Phil - Style, obviously. We're humans, not robots. Progression doesn't necessarily involve breaking your neck trying to equal or beat the standard's. Fuck standard's, there are none. There is room for progression in the smallest details, be original and fluid. Create yourself, then, perfect yourself and impose your persona to skiing.
B-Dog
To Phil- How much shit could you fit in your jacket? I mean the B-Dog has like a million pockets. - schwertlec10
Phil- All i need and still got space in case i find a treasure.
Which (movie) part of Tanner's is each member of the crews' favorite? - 207
Phil- Session 1242
What are your thoughts on competition skiing, and the lack of variety in courses / formats in skiing. - Mousseau
Phil - It is sad... That's why Inspired will host a series of events this upcoming year with different flavored formats and courses!
To Henrik: How do you do your hair? - filipfm
Henrik - Usually with my hands.
To Tanner, Phil, and Henrik. Do you prefer doing smaller film projects such as The education of style, blackout, ect.. Or being part of a larger team and doing movies with level 1, or pbp? Thoughts on each? - Chubz.
Phil - Smaller projects. I am very picky about all that is released of myself and so managing my own projects and clips enabled me to be happy of the outcome, if i am not, then it is because of me.
Tanner - Smaller Projects........You have way more control and you can portray skiing exactly how you want instead of the big production.
How epic is the Perron family, and what was your favorite food that KeL cooked up for you guys while you where in Suneapee - danvillaire
Phil - There great! Some of the most welcoming and genuine family there is. I forgot what we ate exactly but every meal was a mega treat!
B-Dog shows off his collection of tickets from the Inspired Tour
Directed more toward Tanner: Will the THALL invitational be happening again this season? If so, will it be at Sierra at Tahoe again? And what were you thinking of as far as the feature goes? - sodollo15
Tanner - yes its will happen again and it will be at Sierra at Tahoe again and as far as the feature
will be something totally different but will be amazing i can assure you that!!!
Do you appreciate or dislike kids (or adults) coming up to you wherever and asking about your business or wanting autographs? - STwoops
Phil - Appreciate. They are happy people and part of the reason I am capable of supporting myself to fulfill my vision, so therefore, I am thankful. There is a way of finesse to approach people tho, be delicate and everything is cool.
A crowd of fans at the Pine Knob Inspired Tour stop
Will Henrik or Phil ever go back to filming with Level 1?- ThunderCats
Tanner - ya never know
How tall are phil and henrik, and where did henrik get the armada tall t collab? - sng98
Eric - "they are about 5' 7'' and Tall T Productions made those Armada tall ts for the armada team only. Same with the Oakley Tall Ts that Tanner wears."
Henrik, do you ever plan to do another nose bud triple? Thinking about JOI, Frostgun, etc. - stupendous-man
Henrik - If I'm in need to do it or if i really like the jump i am hitting then i could see myself do it again.
Where did you guys film this year - Miclovin
Tanner - BC, Quebec, Sweden, Italy, California
The Tour at Vallée du Park, Quebec
What's the worst aspect about Newschoolers? - Mousseau
Tanner - all the shit talkers that arent even right with their so called facts!!!
Directed more towards Henrik than Phil, but could apply to both. Which do you like better, filming or competing? - SKIIOWA
Henrik - Depends a lot on the day and terrain I am skiing but I like filming more because of the freedom and the vibes are always really nice!
Phil - Filming. Freedom is the reason. Everything revolves around your choices: scheduling, choice of features, amounts of try and people you are with, mostly, therefore the result is much more personalized than any competition can showcase in my opinion. Plus (if you have that skill) you can handle your footage and edit in a way you perceive your skiing with your favorite music, makes for a great and fun craft!
When/Where is Cali P's next US show? Do you guys actually have rights over his music or are there other intermediaries and companies involved with the distribution? - mammspowskrHMD
Eric - As of right now Cali P is focused on the Islands, Central America and Europe as far as touring and shows. The USA and Canada is pretty crazy for all the work visa's and other shit you need to make it happen. Inspired Music Concepts LTD, based out of Jamaica does own some rights to Cali P tunes WITH Cali P owning them as well... but, pretty much Cali P as an individual owns his music with whatever producer produces him. And in reggae/dancehall there are LOTS of producers he works with
What do you think makes Newschoolers unique? - Mousseau
Tanner - Gives a place for kids who love skiing to go and ask questions and get answers!
---
Inspired Media's TV shows http://inspiredmedia.tv/inspired-tv/
Inspired Media's Movies http://inspiredmedia.tv/feature-films/
Inspired Media's Events http://inspiredmedia.tv/live-events/
Inspired Media Demo Tour http://inspireddemotour.com/
Inpsired Media's Website http://inspiredmedia.tv
Tanner Hall http://tannerhall.com/
Henrik Harlaut http://hharlaut.com/
Phil Casabon http://philcasabon.com/
Paul Bergeron http://b-paul.com/