The David Lesh Q&A

As some of you may know, David Lesh is a professional skier and founder of Virtika Outerwear (formally First Drop). He has been involved in freestyle skiing since the beginning of the sport and is a long-time contributor on NS (he is member #12). Lesh spent his early years in India with his parents, speaking Hindi, English, and Marathi. He was the only white kid in a city of over a million people.

After moving to Madison, Wisconsin, he began freestyle skiing at 150ft tall Tyrol Basin in 1995. Twin tips were not available yet, so he boiled the tails of straight skis in water and bent them under a door to make his own twin tips. After high school, he moved to Portland, OR where he coached Windells and got his first sponsors. He moved to Colorado in 2005 and began filming with Level 1, Rage, Two Plank, Shades of Gray, and other companies. Lesh then began traveling and competing internationally, and was published in most major ski mags. He grew unhappy with the lack of dope outerwear available, sewed his own suit in 2008, and founded Virtika in 2009.
Lesh is a pilot, felon, party animal, traveler, photographer, entrepreneur, videographer, hobo, skier, nerd, designer, and everything in between. Aside from your grandma, he is possibly one of the nicest, down to earth people you'll meet and is very honest and open about his past, personal life, and his business. This is your opportunity to ask him ANYTHING you want.
---
MacMahoooon: How special does it feel to be member number 12 on Newschoolers? And I still can't fathom how the hell you happened to find us (NS) so early! How?!
Ha! Funny you should ask. I actually remember the day pretty well. It was 1999 and I was a freshman at West High in Madison, WI. I was bored out of my mind, skipping class and sitting in the library on one of the few computers that had the Internet. I didn't have a computer at home so my only chance to go online was at school. I had just got my first pair of twin tips (yellow Salomon 1080's) and was super into skiing so I was looking for ski websites. The Internet was still in its early stages and there wasn't a good way to search for things like you can these days, so I was typing in random stuff into the URL field. I tried things like "freestyleskiing.com", "newschoolskiing.com", "freestylers.com", etc with no luck until I finally happened to put in "newschoolers.com" and BAM (well, not really BAM- the internet was slow as SHIT so it took a while to load). The site was brand new, and there were only 11 other members at the time (pretty much just Harvey and a few of his friends). I signed up and used the member name "David" (which it still is to this day) since there were only a few people on the site and everyone was going by their first names. A while later, Newschoolers had a team which they put me on, so I guess you could say that NS was actually my first "sponsor".
Lesh throwing a lawn dart at Tyrol Basin, Wisconsin in 1999 on the original Salomon 1080's.
Turkelton: What was it like being a white kid with an Indian accent?
It was pretty tough. I was 6 years old living in India with my family at the time (1991). My sister was 6 days old, and we were forced to move back to America with a few days notice because of the Gulf War. I began going to Shorewood Hills Elementary School in Madison, WI. I was a blonde hair, blue eye white kid with a THICK Hindi accent; the kids didn't know what the hell to make of me. To make matters worse, I was dirt poor with 2 artist parents and happened to be going to a public school that had kids who came from super wealthy doctor/ lawyer families so to say that I didn't "fit in" would be an understatement.
David and friends playing in Panvel, India.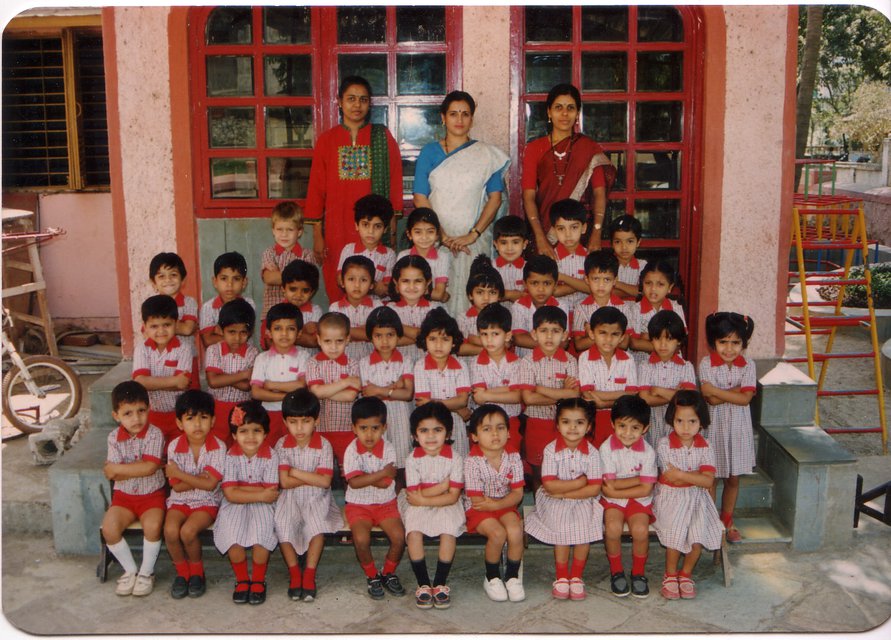 David's class photo at Little Angels School in Palaspe, India.
Do you still speak Hindi at all?
I used to speak fluent Hinda and Marathi. I went back a few years ago to visit my Mom for a few months (she lives in India) and picked up a good amount of Hindi again. I guess it was locked away in my brain somewhere. So, I'm far from fluent now, but I can get by when I'm there.
How does it feel coming up not as privileged as others were?
When I was young, I remember it SUCKING not being able to have things the other kids had like dope shoes and clothing, cool toys, family vacations, cable TV, etc. But looking back on it, I think it really helped make me who I am today. And it has probably allowed me to now more fully appreciate all the things I have worked for.
David checking out the watering hole behind his house, where they bathed elephants.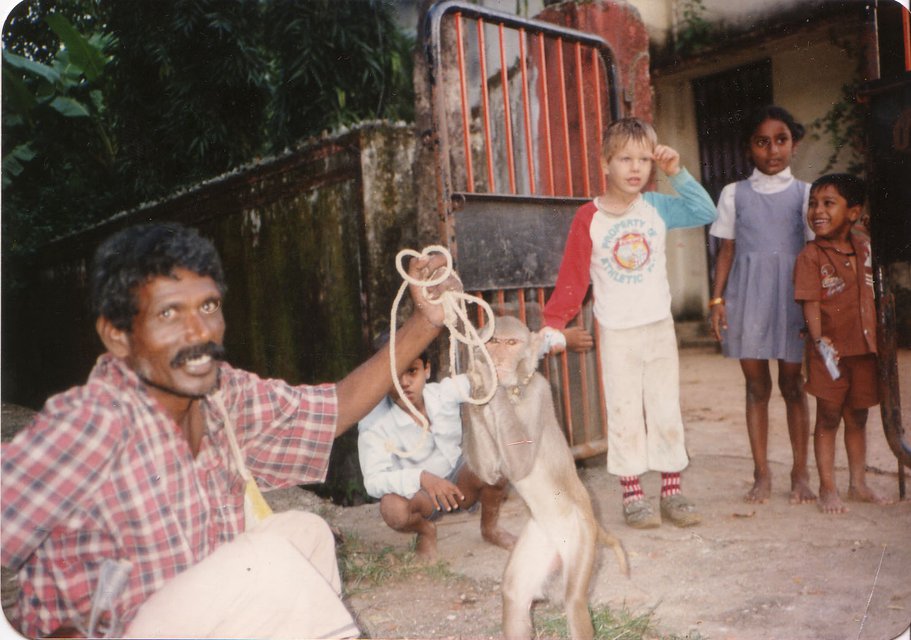 A traveling monkey entertainer passes by David's childhood flat.
Magnus - I've always wondered, how did you end up getting a meeting with Obama?
I used to date a chick whose friend works for the White House; he hooked it up. Obama came to Colorado to give some speeches having to do with the economy and small business, and was planning on meeting with some local business owners. They also needed people to drive White House staff vans so I got to do that for 2 days plus meet the president and discuss Virtika. Obama and his fam like to go skiing occasionally (usually in Aspen) so we sent him, his wife, and the kids some gear afterwards. It all worked out pretty well. I still can't believe the secret service let a convicted felon meet the president of the free world and discuss business. Absolutely insane.
David meets president Obama and discusses small business.
ChipsAhoyBoy: Will Obama be in the next Friday video?
I'll have to call his office and see if he would like to make a guest appearance. I'm sure his PR staff won't have any problems with it ;)
McFellon: Was clothing design a hobby of yours from early on, or something you picked up when you realized you were unsatisfied with the outerwear available?
One.2: Is the real reason you created Virtika because you couldn't get an outerwear sponsor?
I'll answer these 2 questions together. I was never into fashion or clothing at all, and designing clothing was about the last thing I figured I would end up doing. Since I grew up shopping at Good Will (and still do), being concerned with clothing was never really an option for me until I started Virtika. Now, my entire life revolves around it.
The reason Virtika came to be was because I couldn't find anything out there that I wanted to wear. I skied for a number of outerwear companies in the few years before I started Virtika, and I approached all of them to let me design a suit. From my lifetime of skiing, I felt that I knew what kids wanted (taller fitting, technical outerwear with tons of features and customizability), and no one was making it. They all told me they were perfectly happy making the same crap they'd been making for years and didn't need any input. In 2008 my Dad came out to Colorado to visit and brought his sewing machine. We cut apart 2 ill-fitting pants and jackets and combined them to make 1 suit. The suit was total trash, but I still managed to get some shots in it that year on a Freeskier / Skiing Magazine trip to Europe, and it set into motion my need to create outerwear that I (and hopefully others) wanted to wear.
Lesh skiing a long descent in the European Alps in his home made suit during a Freeskier / Skiing Magazine trip.
CollegiateDouc…: How many gallons of milk do you pour on tits per day?
Generally I try to pour at least 3-4 gallons of milk on tits per day. Every now and again I get yelled at for using up all the milk in the warehouse, my friends don't have any for their cereal.
Link.: How much research and development went into deciding which type of milk to pour on girl's tits? Was 1% or skim going to look too much like water? Was homogenized milk not going to run as fluidly as you liked? Was it the girls own personal breast milk?
We consulted several scientists and doctors during the planning stages of the milk scenes. We wanted something that was thick and would have the slow motion properties that we desired when being poured on dancing girls and bouncing boobs. We planned on using whole milk since it 's the thickest, but the girls were worried that they would end up accidently drinking some of it and didn't want to get fat. Skim would have been too watery (like you said), so we settled on 2%. We decided to mix it up a little and got some chocolate milk as well, for interest. None of the girls were lactating so we weren't able to use their own milk.
http://www.newschoolers.com/videos/watch/630513/FD---Virtika-Outerwear-presents--This-Friday-
Nacho_Macho_man: When is next Friday?
Well, next Friday is the Friday that comes directly after this coming Friday. So really, next Friday can be anywhere between 8 and 14 days in the future. If you're asking about the final Friday trilogy video entitled "Next Friday", not really sure. We'll still working on the details of it, we'll put it out sometime this winter. Stay tuned!
CaptainObvious: There's been a lot of speculation about the name change from First Drop to Virtika and what core reasons you may have had to make that move. What is your actual goal in the brand face-lift? Are you trying to mature your image?
Great question, I've been getting this a lot lately. I was DEAD broke when I started First Drop in 2009, had no business experience or schooling, and couldn't afford things like trademarks, lawyers, or short URL's. I was forced to use the incredibly long URL firstdropouterwear.com. Telling people my email address over the phone was INSANE, so we shortened it to fdwear.com. In the meantime, I tried to get a trademark for First Drop and was denied time and time again because it was "too common, generic, and similar to existing marks". Having trademarks is important for a business, especially if you ever want to sell the company in the future. A few years ago we got a new outerwear factory and introduced our "Virtika" line of outerwear (pronounced like "vertical" without the "L"). The outerwear and the name were a huge success so we bought Virtika.com (nice and short, and unique) and we got the trademark for Virtika. We've gotten great feedback about the new name.
To answer your other question: Yes, we also feel this is a chance to rebrand the company and show people our dedication to making the best outerwear and clothing on the planet. We're not just some gangster-ass clothing company that makes baggy gear for park skiers. Our new Triple L outerwear is the dopest outerwear I've honestly ever worn. The gear has finally become the outerwear I've always dreamed about wearing. We've made some huge strides in the past year and we intend to keep bettering our products and ourselves indefinitely. Look for some big things from us in the next few years!
HanSoloBurger - and Nacho_Macho_man - What is the airspeed velocity of an unlaided swallow? African or European?
Damn, he's good. I believe you mean "unladen swallow". I've found the average speed to be 24 mph. In order to figure this out, we want to establish a Strouhal ratio, which is the frequency (f) of wing beats and amplitude (A) of each wing flap. With those two numbers, it will be possible to estimate airspeed (U) for a cruising bird. (fA/U) if you will. So, with a frequency of wing flaps of about 7 times per second (which has played itself out in the Philos-O-Tron Wind Tunnel Testing Area) and an amplitude of .18m per flap (given that the average wingspan of this particular avian is around 29cm) that would yield an airspeed of roughly 11 m/sec or 24 mph assuming the swallow is unencumbered.
SKIIOWA: Is a return to Tyrol in the making? It'd be dope to ski with you.
I usually go back to Wisco a few times a year. I usually ski Tyrol when I'm back during Thanksgiving / X-mas. Hope to see you then!
Troy: What's the story behind being a pilot? Was it a dream you always had?
G_DUB_YU: What significant careers did you want to do growing up?
I'll answer these 2 questions together. From a super early age, I really wanted to be a commercial pilot for one of the big airlines. In those days, it was a decent paying job (senior captains were making $250k a year) and it seemed like a great way to travel the world and make a living. Unfortunately my parent's weren't able to afford lessons for me, so my dreams of being a pilot sat on the back burner. To satisfy my love for airplanes, I got into flying gas powered RC planes in middle school and I did go on a few introductory flights, which only gave me more of the "flying bug".
David and his first gas powered RC plane.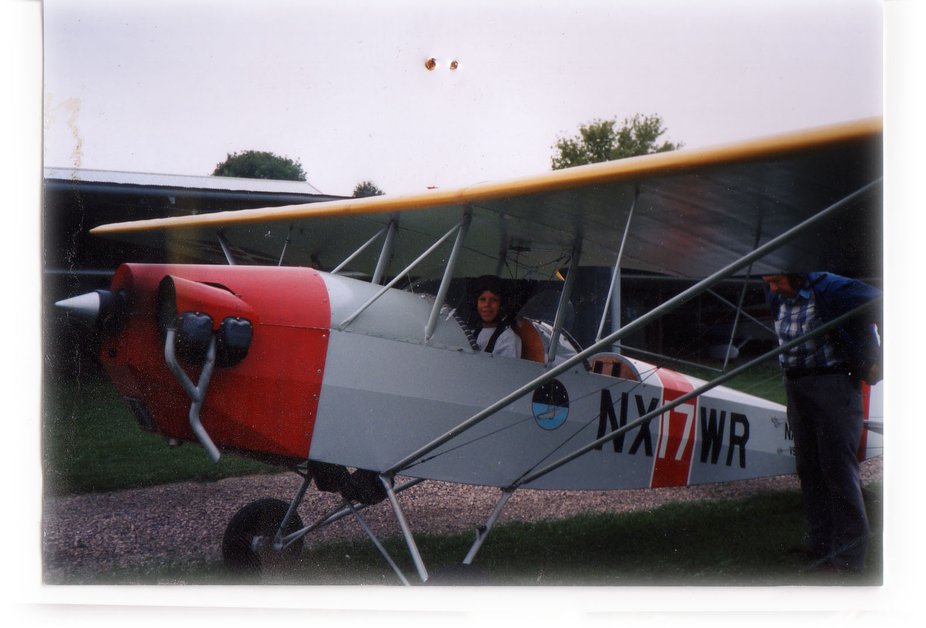 David flying a canvas covered, open cockpit, home built WWI replica.
After I started Virtika (First Drop at the time), I made a few bucks and the first thing I did was sign up for flight school. I was running the company completely by myself, skiing professionally, traveling full time, and flying at least once a week. I was a BUSY guy, and managed to get my license in less than 3 months. Realizing that lifelong goal was one of the most satisfying experiences of my life.
I went to NZ that next summer to live and ski, got my New Zealand pilot's license, did a few months of research online, and came home and immediately bought my plane. Being able to travel quickly and efficiently around North America has been a ton of fun and is a huge help for my business.
Friends Taylor Seaton and Henrik Harlaut go for a ride in NZ after Lesh gets his NZ pilot's license.
Lesh flying with friends over Lake Michigan in his 6 seat Piper Lance.
Jaznewt: Are you a member of the mile high club? Explain.
Jasper! Knowing what you know about me, take a guess. I own an airplane and am out of my fucking mind. I'll spare the kiddies on here details of my sexual exploits.
ho_chi_minh: Is Virtika Outerwear a money-laundering front for an aviation based drug trafficking operation? Serious question.
Shit, this is an AMA. I gotta respond, huh? Well, now that you've asked: Yes, it is. I fly for an international drug and human trafficking cartel that pays me very well and "takes care" of people at my request. Oh fuck; the FBI just knocked my door down. What do I do!!!??? HELP ME!!!!
BoatsNHoes: What advice can you give to kids trying to make it somewhere in the ski industry growing up in an area with "mountains" less than 200 ft tall? The hill I ski on is converted from a capped landfill hahaha.
I grew up skiing at a 150ft tall hill in Wisconsin so I can relate! My advice would be to pick out something you like to do and try to be the best you can be at it. Whether that is art, design, business, photography, videography, building websites, or just skiing; keep at it, network with people, be honest, kind, and thoughtful, and most importantly WORK HARD and you'll find doors opening for you where you least expect.
kickherback: What misconception about David Lesh is most concerning?
Well, there seems to be a few that continue to pop up time and time again. People like to assume that I'm a rich, trust fund kid. That one amuses me. Then you've got people who think I'm a dumb hoodlum. Watching the videos, some assume that I'm a gun-nut. I actually don't own any firearms, and I make sure that anytime I'm around guns everyone is extremely safe and responsible. Yes, there are a lot of different elements of my personality, and yes I have a Paul Wall grill (I love getting a rise out of people), and yes I have done a lot of crazy, illegal shit in my life, but I've put most of that behind me. I can assure you one thing I'm NOT is a dumb hooligan.
Lesh being a dumb hooligan.
Jahoe_Stuyve: Do you still get pulled over for the Friday videos?
I haven't recently, but I also haven't been in Breck all summer. They LOVED to pull me over time and time again after Last Friday, but I think they realized they weren't going to get much out of me and gave up. We'll see how this winter goes. I have pretty much the most recognizable car in a tiny town of 2,000 people so they definitely "have my number."
CKpolicy: Your company has come up with some pretty unique marketing strategies and you seem to have a knack for getting attention when you want it. Has your ability to snag the limelight always been beneficial? Do you subscribe to the "no such thing as bad press" mentality?
Yeah, we've definitely had some eye catching marketing tactics. If you want to compete with the "big guys," I think it's really important for a new, small company to make its mark and get people's attention early on. Love us or hate us, at least people are talking about the company. I think we'll begin to win over the naysayers one by one when they see how great our customer service is and how we are committed to putting out the best gear on the planet!
1337: Lately you've been under fire from many NS'ers regarding your antics in the videos you've recently posted. It's quite obvious to see in these edits that you don't really care what people think about your lifestyle. Aside from this, are there any other underlying messages you try to convey to your audience? Do you wish people took skiing more or less seriously? Do you even care?
It's actually been really interesting. I've found that our videos bring out people's darkest insecurities and unhappiness. Little bit racist? Then you're probably in the forums saying that I'm "acting black." Not great with the ladies? Then you'll probably take issue with all the naked chicks around us and in the ads. No money? Then you'll hate on the plane and lavish lifestyle. Bored as hell at your parent's house? You'll probably bitch about the partying. Totally happy and secure if your life? Then you'll probably fucking LOVE the videos.
I guess if there IS a message I'm trying to convey (not really sure there is one), it would be to have fun, loosen up, and not care what others say about it. As long as you're living the life you want and not hurting others, who cares what you do? I would say that kids take skiing WAY too seriously. Lighten up guys, the sport was born from a counter culture that wanted to party, ski the way they wanted without rules, travel, hang out with friends, and have a blast.
AUSTINBIKESKI: What trick has frustrated you the most/hardest to get dialed?
Early on, I had a lot of trouble learning switch tricks, especially switch 5's. Growing up with twin tips would have been a HUGE help.
-emile-: Can you expand on the bomb threat?
HA! Sure. To set the context, you have to understand this was 1998 (pre 9/11), and the social climate was very different than it is today. I was in 8th grade, and it was towards the end of the school year. The middle school down the way had bomb threats almost every day. The kids would get to miss an hour of school and walk down to the local church. I was jealous, why do they get to miss so much school? Why isn't anyone at our school thug enough to do a bomb threat? So my 2 buddies and I decided to GIT-R-DUN. One friend wrote the note, and I put it in the bathroom. The bomb threat went off without a hitch, and we got to skip some school. Reconsidering his legal freedom and future, the third friend who was originally supposed to find the note backed out and told on us afterwards. My friend and I got arrested and convicted of felonies. We were expelled from school for 6 months and I never technically graduated middle school. I went to high school a quarter late and picked up the nickname "bomb threat boy". Then in 2001, Lisa Motelet decided to bring it up on Judge Mathis.
http://www.youtube.com/watch?v=OF0tIuTu5V0
Ferris Bueller: Lesh are you anywhere near understanding the truth of life?
What a profound question. By "truth" do you mean "meaning"? The more I understand about life, the more I realize my understanding of life is incomplete. I feel very lucky to have lived the life I have, and I think my experiences have given me a lot of perspective. I encourage everyone to get out of their house, their town, their state, and their country and go explore and interact with the world. Am I close to understanding the meaning of life? Nope. But I get closer every day.
cultrara: The original suit you produced is my favorite of all time, from any brand. Do you foresee making something as radical as this again or is Virtika heading away from this style?
Thanks! Glad you liked it. I actually spent more time on that first suit than any suit since, asking everyone what they thought about it and going through tons of revisions. I wanted to do something that had never been done before so I went with a curvy, A-symmetrical design with a pocket that magnetically held itself over the zipper flap. We haven't gotten a ton of requests for something like that, but maybe we'll make a limited edition throwback suit at some point anyway. We'll definitely try to continue coming out with radical designs, concepts, and features!
The original 2009 First Drop suit.
jca - How many PIC (pilot in command) hours do you have? How often do you fly? How much does your plane cost to run per hour?
I've got around 500 hours, and am instrument rated. It varies, but I usually fly every week or two. When you factor in some fixed and variable costs, my plane costs a few hundred dollars an hour to fly.
David flying through Utah canyons with Paddy Graham, Fabio Studer, and friends en route to Las Vegas for a weekend of partying.
Phil: I'm the Director of Finance for TED x UIUC. I'm interested in finding a professional skier to speak at our conference in April. My question to David is; If my exec team allows me to get a skier as one of our speakers, would you potentially be interested in speaking at a TED conference?
Yes! I love watching TED talks (especially the tech ones) and would gladly speak at one. PM sent!
HP123: Describe your ideal day of perfect skiing? Where, with who, what conditions? Does it include shooting signs out of the car on the way there?
My perfect day of skiing probably starts out with meeting up with some homies at a BC trailhead, unloading our sleds, and going out to shoot in deep pow. We had a blast filming This Friday with Tanner and all those guys, so it would probably be with that whole crew. Shooting guns is always a good time, so sure, we could do that on the way I suppose.
Lesh filming This Friday with Tanner Hall, Simon Ericson, B Devine, and friends in the Utah backcountry.
PULL: Being so early to the game, what made you want to bend up those first pair of twin tips and how did that initial spark grow into the passion upon which you based your business?
I was 14 and working at Play It Again Sports in Madison at the time. I couldn't afford skis, so I grabbed 2 mis-matched skis from the dumpster (they were different lengths, different brands, and had different bindings on them), took them home, boiled the tails in water, and was out learning to grind rails on those skis the very next day! My passion for skiing is what led me to make my own twin tips, and what eventually led me to start my company.
Rogge: Please talk about the thought process behind some of the features on your outerwear. Where did the ideas come from?
Rogge! Thanks for the question mang. Basically, through a lifetime of skiing, I found that there were many things I always wanted in a suit but was never able to find outerwear that had them all.
My hood on my jacket kept coming up over my head when I would spin or ride switch. My solution? A snap hood stay.
I wanted a jacket and a vest for the spring but didn't want to buy 2 jackets. Let's make zip off sleeves!
I was broke and couldn't afford to buy resort meals so I carried my lunch to the hill in a sack. How about big ass mesh pockets that you can also put your skins in?
I didn't want to buy under layers or different outerwear for winter/summer skiing. Let's make a semi-insulated suit that's warm enough to not have to wear anything underneath on the coldest of days, but has zip off sleeves and 8 vents to cool you down when it gets hot!
I would always get super hot hiking rails and backcountry jumps. Let's put removable hiking suspenders in the jackets, and have 2 extra back vents for flow-through ventilation!
I wanted to listen to music on my iPhone and wanted to put it near my stomach/chest so it would stay warm and wouldn't get smashed if I fell. I would put it inside my coat, but then I had to unzip my coat every time to change a song or answer a call. So, we made a hidden pocket that is accessible from under the main zipper flap so you don't have to unzip your jacket, and goes through to the inside of the jacket so it stays warm and protected.
The list goes on and on, but basically there is a reason for everything on our suits. Everything has a purpose, and comes together to make the dopest outerwear I've ever worn.
http://www.newschoolers.com/videos/watch/664307/The-Difference-Is-In-The-Details--Triple-L-Outerwear-
HP123: Hey David, what's your favorite lake to party at in Wisco? Have you ever gone bare-footing? And have you ever skied Indianhead or Mt. Bohemia in the U.P.? It's dope how you rep Wisco and the Midwest BTW. Cheers!
I'm not big into water skiing or wake boarding. Water becomes REALLY hard when you smack into it getting dragged around behind a boat. I've never tried bare-footing and probably never will. I do however LOVE going back to the Midwest every summer and partying out on the lakes. Lake Geneva is probably the dopest in Wisco, but it's hard to beat Big Island on Lake Minnetonka in Minnesota, lots of good times. I've skied in the UP, but have never been to Indianhead or Mt. Bohemia. I usually ski Tyrol and Cascade when I go back to Wisconsin.
Midwest summer boat life. Big Island, Lake Minnetonka (Minneapolis, Minnessota).
CamLoops: Do you still ski for fun?
Fuck yea! Why else would I ski? It has been super liberating to not have to strictly rely on income from ski sponsors in the past few years. I have no pressure now, and am free to do whatever I want.
GeneralStonewal: Where do you get your inspiration for designing next year's product? Is it based on what you think will be most successful? Or do you decide on designs, colors, fits, etc. that you like the best?
I don't really know where I get my inspiration. I just sort of sit down and start playing with lines on paper. When I get a concept I'm happy with, I digitize it and send it to a few people to get their opinions. Then I make some revisions and off it goes for sampling. I then usually make another round of changes before production. We basically just pick colors that we like, and ones that people ask for and switch it up from year to year. We try to really listen to our customer's feedback and create a product they're stoked on.
mski: What do you put in the pocket on the back of your jackets?
Usually I'll throw a few condoms, some Viagra, a dental dam, and a PBR in there.
We actually got rid of that pocket this year. The reason I originally put that pocket there was 1: because it was unique and it gave the back of the jacket an interesting design element, 2: it gave some weight to the bottom of the coat which helped keep the jacket from coming up in the air when you're spinning/flipping and 3: it was good for putting your gloves in. Now that our outerwear has an improved construction, thicker shell, waist gators, and waist cinchers, we've found that the pocket isn't necessary. Plus we just wanted to change it up a bit.
McFellon: How long did the Friday videos take to plan and film?
I had wanted to make videos like that for as long as I can remember but didn't get the chance until 2 winters ago when we made "Last Friday". I conceptualized it over a period of a few months the summer before and then flew a videographer out from the East Coast for a few days to film it. We filmed everything in 3-4 days and it took me 2 weeks to edit it. It was a HORRIBLE snow year, the weather didn't cooperate, and we were super rushed but we somehow made it work. I never would have guessed the reaction we got from it. The Apology Video is a spoof of a Lebron James Nike commercial (which in tern is a spoof of an old Charles Barkley ad.) We actually got the idea from a customer on Facebook. It took 2 weeks to film and 2 weeks to edit.
http://www.newschoolers.com/videos/watch/788461/Virtika-Outerwear-presents--quot-Last-Friday-quot-
Since we made Last Friday under less than ideal circumstances, I wanted to outdo ourselves in every way possible for This Friday. We spent 3 months filming (we weren't filming every day) and at least a few weeks of editing to put together This Friday. Lots of hard work, but we had a great time making the videos!
http://www.newschoolers.com/videos/watch/788462/Virtika---Lesh-Apology--for-Last-Friday-
HP123: How does David Lesh want to be remembered? What do you want to accomplish in life?
Well, when the time comes, I won't really care how people remember me. I'll be dead. I guess it would be nice though to leave the planet with at least a few people who didn't mind having me around when I was alive. Hopefully I will have made a difference in a few people's lives, and maybe I will have inspired a few people to chase their dreams and become the people they want to be, and do the things they want to do.
I have a number of things I want to accomplish in life. I won't bore you with the details, but overall it's my goal to experience all I can and live a full, happy life.
Lesh car surfing in his PJ's after a day of skiing in New Zealand during the filming of B-TV 3 "Gillahouse NZ."
Anchorfilms – What's next for Virtika and David Lesh?
Right now, super busy with Virtika related stuff. This is the busy time of year for us and we're working on taking a number of big steps that will help the company grow in the next few years. We'll continue to evolve our products, our team, our marketing, and our company as a whole. I'll be moving to Breck in a few weeks for my 8th consecutive year up there. Lots of skiing, snowmobiling, traveling, partying, making edits, flying, taking pictures and video, and hard work. I can't wait.
Thanks for all your questions NS. Don't be shy, come and say what-up in the park, or in the club. I look forward to shredding with you guys this winter!