The Dale Talkington Q&A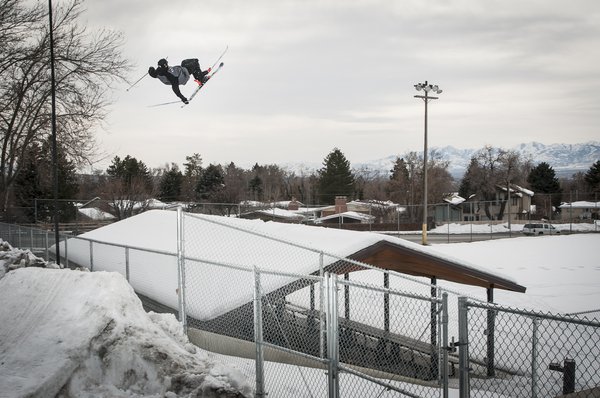 Dale Talkington has become an online skiing sensation over the past few years. Known for his mindblowing edits and video parts, Dale continues to turn heads and make a name for himself in the industry. Raised in Vermont, the skier known as "The Worm" now calls Salt Lake City his home along with most of the 4bi9 crew.
Photo: Trevor Woods
What is the scariest experience you've ever had while skiing? -@drew
I think one of the scariest experiences I have had skiing was when I was free skiing in Tignes, France with Andrew Napier and Tom Wallisch. We were just having fun riding the whole mountain when we ended up on top of these massive cliffs and had to traverse back out. It was not a good feeling knowing that if i made the slightest mistake I was tumbling off a massive cliff to my death.
What is the most trouble you've gotten into skiing urban? -NY_skier
I have not gotten into too much trouble yet, just a lot of threats. But two seasons ago I was with 4bi9 media on an urban trip to the Midwest and some cop decided to give us a ticket for destroying public property by sliding a four kink.
Intoxicant of choice? -Tree60
Marijuana and caffeine.
How long do you see yourself lasting as a professional skier? -Mr.Bishop
That is a hard question to answer, but I love skiing and will try to do it professionally as long as I can. I plan on getting into the backcountry much more as I get older.
http://www.newschoolers.com/membervideo/310093.0/NEW-INTEL---Dale-Talkington-Spring-Edit?s=23401
Dale Talkington Spring Edit by Evan Williams
Do you scope street spots in advance, or just go on a ski trip and get what you'll find? -k-lei
Both In Salt Lake City and areas around me I am constantly taking photos of new spots and ideas for next season. A lot of the time when we go somewhere new, we spend a couple days before looking around on Google Maps at the nearest schools, churches parks or business plazas. Street spots are everywhere you just gotta think outside of the box and you can pretty much make something cool out of anything.
When riding out in the West, do you ever miss the icy East Coast that you called home? -OwenReynolds
Of course I love coming back to the East Coast and riding the mountains I grew up on. I love coming back and skiing Okemo and Mt. Snow's parks. I never really go out of my way to get there, but when I go home for Christmas and other various events it's great to ski those mountains again.
Is cork 9ing over everything your thang? -Turkelton
It's pretty fun to do jump tricks over random objects or rails. It kind of started out as a joke but now it opened my eyes into doing things people haven't done in the streets.
How many years did you ride at Okemo before going out west? Was it a major change going from East to West Coast? -kyleogren
I went to the Okemo Mountain School for my four years and then made the move to Salt Lake City to pursue my career as a skier and student. I choose Salt Lake City mainly to be able to film and ski with my good friends at 4bi9 Media. It was quite the change allowing me to ski and film more than ever before, I could not be happier.
Who did you look up to when you started freeskiing and who inspired you in your riding? -S.Ki
Liam Downey and Tanner Hall were two people I genuinely looked up to growing up. Liam Downey, being from Vermont as well, inspired me to get into freeskiing. I thought what he was doing was so cool, and I had to do it as well. Then as I began to get into the sport I would watch Tanner's segments over and over, just mind-blown by the things he would do.
What/where is the best rail that you have hit? -JDUBSki22
I would say the 4-kink closeout rail in Wyoming I hit a season ago.
What's the scariest urban feature you've hit? -KillaSteeze
The library gap at the University of Utah this year, if you didn't clear the gap there was little chance that you would be okay.
http://www.newschoolers.com/watch/446685.1/DALE-TALKINGTON---SPRING-EDIT-2-0?c=11
Dale Talkington Spring Edit 2.0 by Evan Williams
Cork 3 out of the halfpipe in the summer edit-> did you stick that first try? -SDrvper
The cork 3 I did not stick first try. It took me probably five tries to land it clean.
Shooting for Olympic hopeful? Sticking to filming? What does this next winter have in store? -TahoeStuyve
I am going to stick to filming, I have no chance at being an Olympic hopeful and I stopped doing AFP competitions a couple years back. Next winter I hope to film and travel more than I ever have. I want to spend some time in Europe or somewhere foreign hitting handrails with the 4bi9 crew.
What was it like hanging out with 4bi9 in their most infamous days when you were still a young kid? -207
It was pretty ridiculous being a little 15-year-old kid hanging out with 18 to 20-year-olds all the time. Looking back at it, I am very privileged for all those guys to have hung out with me. I felt badass and it made me who I am today.
Before moving west, what was your favorite mountain to ski on the East Coast and why? -coreyroy
My favorite mountain was definitely Okemo, they always had the sickest parks in the East. That is where freestyle skiing began for me, so it's hard to think of any other mountain as my favorite.
What is 4bi9 for common skiers? Or not professional! Do you really think you make an influence on the new generation? -Chileanskier
I believe 4bi9 has made a huge impact in the ski industry since the beginning. AJ Dakoulas has become one of the most talented editors in the game along with Andrew Napier and many other new editions, and I think it will continue to make a huge impact not only for the skiers but also for many film connoisseurs. Not to mention it has jump-started all of the riders' careers, helping them become well-known in our industry.
How did you first start out filming with 4bi9? -Dr.SteveBrule
I started filming with 4bi9 media because of Okemo Mountain School. My coach Chris Marks helped start 4bi9 with AJ and Napes and introduced me to those guys. I have been filming with them since the beginning.
Would you ever get into the contest scene? -dgraves
Growing up I was into the contest scene, now I see myself trying to progress the other end of our sport through filming.
http://www.newschoolers.com/watch/575869.0/Dale-Talkington-Summer
Dale Talkington Summer Edit by 4bi9 Media
What are your goals for next season? -kebbek
I would like to spend my whole season filming for a segment with 4bi9 media. I hope to put all my focus into the streets and backcountry and make a segment that can hopefully show people my take on skiing.
Is 4bi9 planning any trips for this upcoming season? -FigNewton
We have a lot of ideas in the works, just going to follow the snow and hopefully film another great movie. We have a big group of riders this year that all have the same idea and want to dedicate their time to making the best ski film we can.
Do you prefer the lifestyle of a snail, squid, or a worm? Please explain. -McLeod
A worm! Hoping to one day make an underlayer clothing company called Worm Wear.
Given that the life of a professional skier (or most skiers in general) isn't the healthiest of lifestyle choices (late nights, early mornings, drugs/alcohol, taking slams, etc.), how do you stay in shape and healthy throughout the year? -BWalmer
By eating well and doing numerous different activities in the summer and fall. In the winter shoveling keeps me in shape along with hiking and skiing around.
Original Spring Edit (Evan Williams)
Spring Edit 2.0 (Evan Williams)
Summer Edit (4bi9)
Trinity (McLeod)
or Collab (4bi9)
Which is your favorite "solo" edit of yours and why? -BWalmer
The Colab edit solely because I dedicated my whole season to making it, and 4bi9 Media did an amazing job editing and filming it.
What is your take on the Olympics and its position in the future of our sport? -Mr.Bishop
I think freeskiing is going in a great direction right now with the introduction of our sport in the Olympics. I am lucky enough to have a couple friends going to the Olympics and couldn't be more stoked for them to represent the United States of America. I think after the Olympics a lot more people will know what freeskiing is. I hope the Olympics brings a light on our sport and opens people's eyes to the sport we all know and love.
Plans for after skiing? Go to school, work in the ski industry or what? -Krotch
I would love to stay in the ski industry after skiing because i know so much about it now. Currently I am getting my degree in communications, and hope to one day work in marketing or digital content for a ski company.
http://www.newschoolers.com/watch/570691.0/Dale-Talkington--TRINITY
Dale Talkington//TRINITY by Mike McLeod
Favorite 4bi9 skier's style? -delflanco
Gotta give this one to John Ware.
What was the terrible accidents you had been through? And how you conquer it or your motivations of getting that far? -perryhunter
Luckily I have not had too many injuries but I would say breaking my collarbone was the worst ski-related accident I have had. About four years ago I broke my clavicle on the morning of the Dew Tour qualifier doing a 450 onto Breck's flat-down box. I just caught my edge weird when I landed and whiplashed right to my collarbone. I was super eager to get back on my skis, so about 3 to 4 weeks in I began swimming everyday until I felt like it was strong enough to ride again.
JUMPS OR RAILS? -*ninja*
I enjoy both, I don't think I could pick one or the other.
Sativa or indica? -jibbpeter
Sativa.
Favorite nonalcoholic drink? -ihatepotatos123
Coca-Cola.
What will you do with the $100k if you win the TGR Colab contest? -Andrew.L
I would get my car fixed, and spend the rest on traveling and filming for as long as I can.
Would you ever think of doing a "Ski with Dale Talkington for a day" thing at Carinthia? It'd be really sick, you could do signings, trick tips, fuck shit up on the slopes while kids ahhhed! I know you ski there every once in awhile, but it would be sick to do a formal thing where kids could meet and talk and ski with you and your crew, no matter the skill level. Just thought it would be really cool. -One.2
That would be a great idea, I would love to come Mount Snow and have a day where I can ski and ride with a bunch of stoked kids.
how does one roll a backflip, complete with useable Dale-tail? - Shark.
You roll two joints with one paper.
What was the important event in our history that happened in 1776? - BWalmer
The birth of Independence Day.
5,10,15,30 mg whats your choice oxycodone pill? - Jahaws
None.
Could you please sit still and be quiet for three minutes? -dbchili
I probably could but what's the point?
http://www.newschoolers.com/watch/588682.0/DALE-TALKINGTON---SKI-REEL
Dale Talkington Ski Reel by Evan Williams, Stept, and Pop the Spot
Whatever happened with that TGR contest? Are we still waiting on results of the second round? - jensen
The TGR contest is still going on. They are announcing the winner this Saturday, September 21st at the TGR world premiere in Jackson Hole.
---
To view Dale's entry for the TGR Colab contest, click here