The Coors Light Saint-Sauveur Challenge Kicks-Off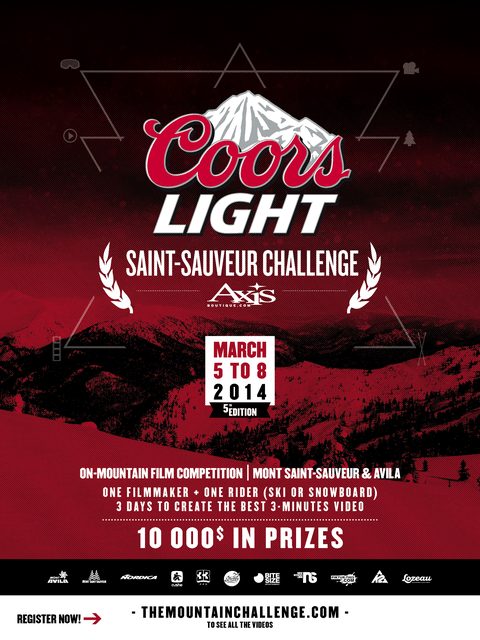 The Coors Light Brewing Company and Mont Saint-Sauveur have announced the fifth edition of the Coors Light Saint-Sauveur Challenge. For three days, the two-man teams will shred Mont St-Sauveur and Mont Avila in order to create the most unique and original three minute edit.
The Challenge is an open contest and teams of two can subscribe via http://www.themountainchallenge.com website. Filmmakers' videos will be uploaded to http://www.themountainchallenge.com for pro judges and public viewers to access and vote. This year's judges include the Newschoolers.com staff who will be on hand to review the entries and help celebrate at Saturday night's afterparty. Teams will also have the opportunity to fight for a the "most views award" which will go to the team with the most hits on YouTube. The winning duo will be announced on Saturday night during the Cold Party Coors Light at Mont Avila's bar where they will be awarded $4,000 for a total cash price of $10,000.
As always, this year's comp lineup is stacked, and the edits are guaranteed to be bangers. To give you a sense of what's in store, check out the rider/filmer list:
Filmers - Riders
Alex Miglierina - Simon Gingras
Christopher Power - Xavier Trudeau
Clode saint-denis - Marie-pierre donaldson
Gabriel Carrier - David Pausé
Guillaume Landry - Yannick Désy
Hugo Nadon - Jonathan Belec
Laurent Bilodeau - Nicholas Chenard
Mathias Arroyo-Bégin - Ugo Papineau
Nicolas cavezzali - Dominique petit
Nicolas Savaria - Jordan Parisella
Olivier Desy - Aliocha Mahaut
Raphael Desharnais - Simon Lachaine
Samuel Beauchesne - Vincent Prévost
Samuel Bocan Biddle - Wild Bocan Biddle
Simon Bruneau-Lévesque - Samuel De La Durantaye
Steve St-Pierre - JP Brochu
Thomas Fontaine - Emmanuel Depault
William Binamé - Vincent Chollet
William Desaulniers - Hugo Pelletier
Xavier Girard - Yan Bussieres
Xavier Mayrand - Martin Bullet
Yourick Pilon - Louis-Philippe Dubord
Christophe Vinçeneau - Anthony Pages
Pierre Morneau - Frederic Lavoie
Vincent Ruel Côté - Émilie Bergeron
To get you stoked on this years competition, here are the top three entries from 2013:
Sebastien Chartrand & Gab Poirier
http://www.newschoolers.com/videos/watch/619424/FREESKI-PARODY---COORS-LIGHT-CHALLENGE-2013---SEB-CHARTRAND
Laurent Olivier Martin & JF Lefebvre
http://www.newschoolers.com/videos/watch/619310/Laurent-O--Martin-CoorsLight-Challenge-2013
Vincent Prevost & Xavier Mayrand
http://www.newschoolers.com/videos/watch/619241/Vince-Prevost---Coors-light-Challenge-2013
For additional information about the challenge, please visit www.themountainchallenge.com and for information concerning Mont Saint-Sauveur, please visit http://www.mssi.ca.