The 2011 2012 season is sliding away...
It's MARCH BREAK and spring has arrived! Don't miss your chance to get in a few runs before it is too late, our closing date is now set for March 18th 2012 (weather permitting).The season may be winding down but we still have some fun and exciting events on the horizon!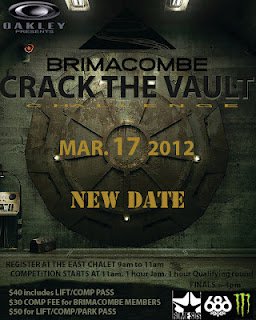 THIS EVENT IS HIGHLY WEATHER DEPENDENT?OAKLEY PRESENTS..Brimacombe?s 2012 CRACK THE VAULT CHALLENGESATURDAY MARCH 17, 2012Brimacombe is proud to present the first ever "Crack the Vault Challenge" brought to you by Oakley, 686 and Rome.The Run DownRegistration and Sign-in starts at 9:00 day of the compRegistration and Sign-in ends at 11:00 day of the compMandatory Riders Meeting @ 11:15 in the middle of the parkComp starts at 11:30 with jam session1 hour jam sessionQualifiers will begin at 1:30Finals will begin at 3:00Big prizes and awards will follow including CASH, a ROME SNOWBOARD and BINDINGS, OAKLEY GOGGLES AND MORE!Comp FormatOne hour Jam Session (controlled drop-ins)Riders will be scored on the tricks they can throw down, biggest tricks stomped puts you in the finalsSkier 13-17 years old and Skier 18 and over categories and snowboard 13-17 years and 18 and over categoriesFemale Open Ski and SnowboardAwards for top three finishers and best trick in each divisionPark passes are requiredRiders must be 13 years of age or olderEntry$40 for Competition and Competition Lift pass (Standard Chair Only pass to access the Park)/Competition registrationBrimacombe members pay only $30 for Competition registration$50 Park pass/Competition Lift Pass/Competition RegistrationAll events are weather dependent, please check our website or call our snow line (905)983-7669 before heading out.***END THE SEASON WITH A SPLASH!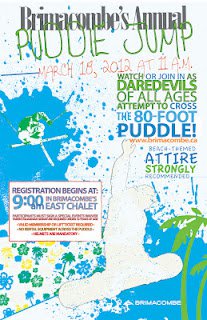 REGISTRATION BEGINS AT 9am AT THE MAIN OFFICE INSIDE THE EAST CHALETALL PARTICIPANTS MUST OBTAIN AND WEAR A WRIST BAND.Non-Members will be required to complete and sign a Special Events Waiver at time of registration. All those under 18 years of age must have a parent or legal guardian sign their Special Events Waiver for them. EVENT BEGINS AT 11am at "LAKE BRIMACOMBE" in front of the EAST CHALETHELMET'S ARE MANDATORYRENTAL EQUIPMENT IS NOT PERMITTED ACROSS THE PONDBEACH ATTIRE STRONGLY RECOMMENDED - COSTUMES ENCOURAGED!PRIZES GIVEN AWAY RANDOMLY ***Our season is winding down! Join us for March Break as we say good bye to the 2011-2012 seasonOUR HOURS OPERATION ARE CHANGING.WEATHER PERMITTING we will be open the following;Tuesday March 13, 2012 for Day Skiing 9am to 4:30pm Wednesday March 14, 2012 for Day and Night Skiing 9am to 10pm (All night passes can be used this night) Thursday March 15, 2012 for Day Skiing 9am to 4:30pmFriday March 16, 2012 for Day Skiing 9am to 4:30pmSaturday March 17, 2012 for DAY SKIING ONLY 9am to 4:30pm Brimacombe?s CRACK THE VAULT CHALLENGE (terrain park comp.) Sunday March 18, 2012 for Day Skiing 9am to 4:30pm FINAL DAY OF THE SEASON Brimacombe?s Annual Puddle Jump ALWAYS CALL OUR SNOW LINE (905)983 SNOW OR CHECK THE WEBSITE FOR THE LATEST INFORMATION BEFORE HEADING OUT TO THE BRIM***SEASON END BLOWOUT! 50% OFF EVERYTHING IN-STOREIf you've been waiting for the perfect time to buy some new ski or snowboard gear, this is it! Enjoy savings of 50% off on everything in-store including skis, snowboards, poles, underwear, outerwear and much more!Only at Brimacombe's Slopeside Retail Store.SAVE!50% on Skis, Snowboards, Bindings & Poles!50% on Jackets, Pants, Long Underwear & Gloves!50% on EVERYTHING!!!Brimacombe's Slopeside Retail Store via Gate 4, 4098 Durham Road 9, Oronop: (905) 983-7669 ext. 226e: slopeside@brimacombe.caPlease note: Discounts cannot be combined with any other offers.All discounts based on Manufacturers Suggested Retail Price (MSL)***SKI THE REMAINDER OF THIS SEASON FOR FREE!Brimacombe's New Member Promotion is back! Purchase a pass for next season (2012/13) anytime during March and you'll ski (or ride) the remainder of this season for free!Plus, we'll treat you to next season's pass at this season's rates! There's never been a better time to join the Brimacombe family.PROMOTION ON NOW***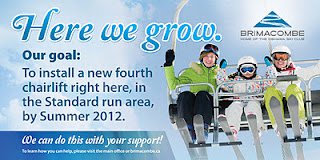 It?s an exciting time here at Brimacombe!Not only are we celebrating the 75th Anniversary of the founding of the Oshawa Ski Club, but the financial success of the past couple seasons has also allowed your Management Team and Board of Directors to move ahead with growth plans for your Club?s future success.As a first step in this long-term plan, we have committed to the purchase and installation of a new fourth chairlift to be installed in the Standard run area. Our goal is to install the new chair as soon as this coming Summer 2012, but we need your help to ensure we meet this goal. The approximate cost of a new quad chair is $1.6 million. We have already saved about $1 million towards this project, and only need to earn the additional $600,000 this winter to make a new chair a reality this coming summer. We can do this with your support!You?ve probably heard us say it before, but in case you haven?t I?ll say it again, ?Every dollar spent here, stays here!? As a not-for-profit ski and snowboard area, every dollar you spend on-site at Brimacombe is invested back into the facility, contributing to projects such as our new chairlift. It makes supporting your facility easy, and in fact most of you have been doing it already!Let?s work together to raise the remaining funds and secure a new chairlift by Summer 2012.Here are four easy ways you can help:1. Bring someone new to BrimacombeDo you know someone who would love skiing or snowboarding at Brimacombe? Take the initiative and invite them to try our slopes. Not only could you gain a new ski buddy, but every rental, lift ticket and membership sold also contributes to the purchase of our new chairlift.2. Shop at Brimacombe?s Slopeside Retail StoreThe next time you?re shopping for equipment, apparel and accessories, visit Brimacombe?s Slopeside Retail Store with one location only, conveniently located at the base of Brimacombe. Not only will you discover excellent selection and competitive pricing, but every hard-earned dollar you spend will also support the installation of our new chairlift. No other shop can do that, because Brimacombe does not operate a store in the hamlet of Kirby, Oshawa or any other town! 3. Book a lessonIs there someone you know who wants to learn to ski or snowboard, or could you yourself use a refresher? Not only will a lesson increase the likelihood that a new skier or snowboarder will stick with the sport, but every lesson booked at Brimacombe?s award winning Snow School will also contribute dollars towards our new chairlift!4. Treat yourself to lunchTake advantage of Brimacombe?s on-site food services at the East and West Chalets, as well as the Snack Hut at the top of Standard. Every food and beverage purchase helps raise funds for our new chairlift and meet our goal to have it installed by Summer 2012.The enthusiasm and support of our members is what has made the Oshawa Ski Club, now Brimacombe, so amazing these past 75 years. On behalf of your Board of Directors and Management Team, thank you so much for your continued support this season as we continue to grow and work together to raise funds to meet our goal of installing a new chairlift by the coming Summer 2012.***The season is winding down FAST...our last day for the 2011 2012 season (weather depending) will be March 18, 2012. Experience spring skiing at Brimacombe, you deserve the down time,Cheers,Mark