TGR: Alyeska Pillow Session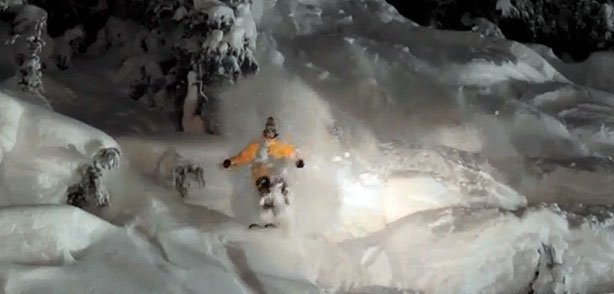 The perks you get when you're a pro skier and riding for Teton Gravity Research are amazing. The slopes will be closed to the general public but the resort will allow you personal access and leave the lights on so you can shoot some extras for your movie. But that's not the best part! With Tim Durtschi's birthday falling when they're in Alaska, they buy him a tank. So they do what anyone else would do and fire the cannon in the driveway. But as Durtschi says, "this is Alaska!"
Sage Cattabriga-Alosa, Tim Durtschi, Dash Longe, and Dylan Hood spent a good part of the season 2011-?12 season at Alyeska Resort in Girdwood, Alaska. In Almost Live Season 4 Episode 6, the crew films pillow lines at night under lights for TGR's new movie "The Dream Factory." Then they take it to the high peaks and ski classic AK lines in light, stable powder.
The "Almost Live" series takes you around the globe with the TGR production team and athletes. Get an inside look at what goes into first descents, building and hitting massive backcountry jumps, traveling throughout the most exotic locales on the planet, and the lives of the world's top riders. "Almost Live" plants you on location with the TGR crew. You will be able to track our progress throughout the season, and watch the drama unfold.
More Ski Videos
Related posts:Jackson Hole pillow fun The title isn't about some sort of sordid sex club...
USA Session 1 Boreal and Alpine Meadows uploaded by a man who goes...
Teaser from TGR for Session re:Session brings the most talented athletes in the sport together...